By Daniel A. Olivas
Publisher: San Diego State University Press
This book is a collection of personal essays and interviews conducted by the author. It provides a glimpse into a 'Who's Who' list of Latino/a authors that have managed to break barriers and have begun to transform Chicano-Hispanic-Latino literature in a way not possible decades ago. In addition, Mr. Olivas provides insight of how he sees the craft of writing and its moral implications on society – a reflective perspective.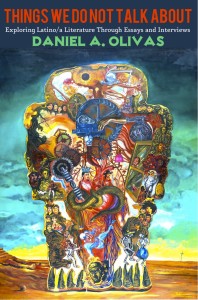 Through his personal essays, he gives us an upfront view of how he juggles his family, his job as a government attorney, and some of his experiences and challenges of life. The personal essays are done with such sincerity and 'ease of talk' that you almost believe you are right there in the same room having a conversation of life with the author. His personal essays touch upon the craft of writing, but they also tap into a thought-provoking look on how he views the world and his surroundings.
So what is the goal of this book by the author? I would venture to say that it's to show light on the many talented Chicano-Latino authors in our midst, including himself, that have managed to succumb to the difficult trials of life, are successful, yet still struggle with cultural identity within this hodge-podge society of what we call 'Americana' today. I must say that he has done this splendidly with little judgment, and has given the reader another perspective into the world of difficult topics such as sexual abuse conducted by priests, bigotry, hatred, and anti-Semitism within the world just to name a few.
The book is well thought out, and is a very easy read. It is insightful, memorable, and rich with solid information from other great writers in the literature world. The information gathered  from these great talents, through way of interviews, is a gold mine for all writers new and established. What a splendid idea!
This book is not only a treasure for all those would-be writers in the world, but also for those that want some insight into a culture that is many times believed to be so dissimilar from the main stream when in reality it is not so different!
The author does a grand job of showing that Latinos, although having a commonality of Spanish in most instances, are citizens that come from all walks of life and struggle to attain the American dream just like everyone else. And this is why his essays are powerful and insightful and why the title Things We Do Not Talk About fits perfectly. If you don't already have this book, pick up a copy.
Source: Book was provided by author for review. It was reviewed by Corina Martinez Chaudhry.