By Lydia Gil
Publisher: Arte Publico Press

Most of us have wonderful memories of our family and food get togethers. In fact, I'm sure we can all remember these special parties, BBQ's, or holidays whereby the food was the highlight of the event along with the presence of those we loved. For instance, in the Mexican culture, Tamales are a much sought after food dish during the Christmas holiday. That being said, the book Letters from Heaven is a magical book in that the central theme is centered on the Cuban culture and their food.
Letters from Heaven, in a nutshell, is about a young girl named Celeste who spends a great deal of her time with her grandmother after school. It is during this time that she learns how to make café con leche. At one time, her grandmother would make her this warm drink and two toasts. This routine was consistent and important to Celeste, so much so, that she found comfort in the presence of her grandmother and her wonderful cooking. Sadly, her grandmother becomes ill and Celeste must learn to perfect her grandmother's coffee before she passes. She does!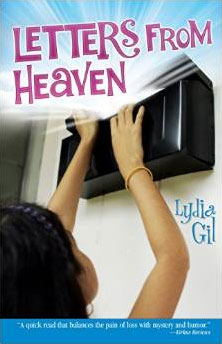 When Celeste's grandmother does pass, Celeste mysteriously receives letters from her grandma. These letters contain recipes and heartfelt messages.  Each letter is important and Celeste learns to cook each recipe sent to her by her grandmother.
While these letters continue to arrive, Celeste must deal with bullying at school, her mother working more, the loss of her dance lessons, her best friends thinking she's gone crazy, and the mystery behind how those letters are being sent. Though I won't spoil the ending, I will tell you it is through the traditional Cuban cuisine that Celeste is able to "fix" many of her problems. In a sense, just like the classic story, Stone Soup, food is used to bring people together. It's a charming and enchanting story for younger readers that will keep them continually guessing.
This story is well written by Lydia Gil and is quite charming. Though the book is something many children will enjoy, what's more amazing is the book contains both an English and Spanish version. The Spanish version is called Cartas del cielo.
I highly recommend this book for young children as it deals with topics your children will experience–the death of a loved one, coping with it, bullying, and family relationships. This charming book is one that will keep your children talking about for some time.
Another unique aspect to the book is that it's a mini cookbook with six traditional Cuban recipes. All the instructions are easy to follow. So, as you experiment with all these wonderful recipes, you can also discuss the book and life lessons with your young adult. It's a fast read, but highly enjoyable!
Source: Book was provided by author's press for review. It was reviewed by Corina Martinez Chaudhry.