Written by Maria de Lourdes Victoria.  Translation: Patricia Ramos.
Click  here for the Spanish version.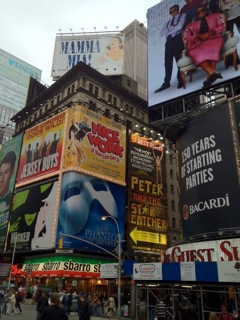 Patricia-Ramos Literary contests remind me of the song The Gambler. If you haven't heard it before, here´s a link: The Gambler by Kenny Rogers.
The song's message is that sometimes you win, most times you lose, but the important thing is "to know when to hold 'em, know when to fold 'em, know when to walk away, and know when to run."
And these are exactly the questions I ponder every time I lose a literary contest. What is life trying to tell me? Should I stay in the game or just give up? Should I hold on or just run?
So let me share with you the latest:
I recently entered the International Latino Book Awards contest held in New York City. I was thrilled when I found out that my second novel, Más allá de la Justicia, had been named finalist in two categories: best novel in Spanish, and best popular novel in Spanish. The novel had already taken third place in Barcelona at the Planeta Book Literary Awards and here was my chance to go to New York and claim, finally, a first place award! You see, I have been participating in literary contests for several years now, and although my novels have made it as far as finalists, they have yet to make it all the way.
I'm ashamed to admit it, but for some reason, this time, I was sure I would win. I had even selected the perfect spot on my wall where I was to display my award. Right here, next to my desk. I know I should have not have "counted the money before the deal was done," but please try to understand. My metaphysics teacher (my sister) had prescribed a positive attitude (mind over matter). My homework? to visualize yourself holding the prize. And that's exactly what I did. I saw myself with the award in my hands. Yes. I had kicked Mrs. Doubt to the curb.
My conviction was such, that even after I got the bad news that neither of our two local artists' organizations had approved my grant applications (requesting funds for the trip), I still decided to go. I didn't want to miss my moment of triumph. So I broke my piggy bank, scoured Orbitz for the cheapest flight and negotiated an affordable apartment in NY. I then sweet-talked my sisters into coming with me. I wanted them to celebrate, and while at it, share expenses. When all was set, I filled my suitcase with more books than clothes and off I went, leaving behind my home, my job, my husband, and my dear dog.
We arrived to New York City on a Monday afternoon, and immediately learned the first survival rule in the Big Apple: if you need to get a taxi, you must resort to the same tactics employed as a child trying to get candy from a piñata: you push, snatch and pinch. Yes, there we were, the three of us, whistling and screaming like verduleras de mercado, totally Mexican Style. You see, no one told us the trick about the lights on top of the cab (which light up when the cab is available).
After a while, a taxi finally stopped, and before the driver had a chance to drive away, we quickly tossed in our suitcases and settled ourselves in the car. Less than half a block away, the driver, of imprecise origin, asked "Do you like Obama?" We exchanged a perplexed glance. "Yes. We like him," I replied. The car screeched to a halt. "Get out of my car!" he screamed. We didn't move. Really? Was he serious? I immediately changed my political affiliation. "Actually, we don't like him that much," I said. The man looked us over through his review mirror. Apparently satisfied, he pushed the accelerated and reassumed his driving at a vertiginous speed, Mexico City style. During the rest of the hasty drive he proceeded to pitch his political views with a heavy accent. From him we learned that Obama would be visiting Manhattan shortly. No one was happy about it, especially not the cab drivers. New York was a mess. I took Obama's coming as a sigh of good luck.
If you have never heard of the www.Airbnb.com website, I highly recommend it. It's a great way to find affordable accommodations when traveling. Through them we found a small, but impressively clean, apartment in East Manhattan. When we arrived, two young men greeted us at the lobby and, grabbing our suitcases, cavalierly, they guided us to the elevator. I felt a twinge of concern. Our landlord did not look at all like his Airbnb profile photo, where he appears wearing a suit and tie, very professional. Here was a young man in faded jeans, an old T-shirt and Nikes. Hard to know when it was the last time he took a bath.
*Side comment: it's a good thing this was not an online dating arrangement… actually, come to think of it, I think he would have been the most disappointed.
After countless floors, we were taken through a long dark corridor. Walking behind them I noticed that our escorts had ample tattoos on their arms, necks and God only knows were else. It was evident that they did some kind of cross fit or p90x training. They were strong. They spoke in an unrecognizable language. My writer's mind immediately started conjuring up the possible scenarios:
We were about to be kidnapped by the Russian Mafia  Mexican cartels were following my twitter feed and thought I would be receiving a hefty award and not just a colorful piece of paper.  Our mothers-in-law had hired some thugs to throw us out the balcony.
Inside the apartment, I discreetly placed myself right next to the door. While the men proceeded to give us all sorts of instructions: how to turn on the air conditioning, access the Internet, and flush the toilet, I looked around for the kitchen knives, or at least a broomstick. After a few minutes of polite conversation they handed us the keys and they left. They were indeed who they said they were: our young landlords. And no, they were not Russian. They were from Israel.
The next morning, I ironed my jacket, grabbed my business cards and my bag full of books, and off I went to Book Expo America (BEA). My plan? To get an editor: someone who would adopt me, and my beloved daughters (as my husband likes to call my novels). If I didn't find one, then at least I'd get a matchmaker – a literary agent who would find my Prince Charming.
At the BEA, I was greeted with a surprise. I am an author and, as such, I had to pay a whooping $200.00 entry fee. I should mention that the BEA is the largest industry trade show in the country. In other words, everyone that has something to do with the publishing industry is present conducting business. Good business. I am talking about bookstores, distributors, editors, printers, agents, publicists, etc.; a whole industry that revolves around people who create content, aka, the authors. Us. And yet, in the pyramid of revenue, we, the authors, get the smallest piece of the pie. It seemed to me that a courtesy pass was in order. I mean, just saying…
I shared my belief with the lady behind the counter. She smiled. Then she asked for my Visa. I offered her a copy of my last novel instead of payment. She politely declined. I offered to sign it for her and explained, patiently, that she was talking to the future winner of the International Latino Book Award. She chuckled. I paid.
*My advice: if you made prior appointments with editors, make sure to ask them for a pass. Alternatively, schedule the meetings in their office.
The sheer immensity of the trade show left me feeling like a tiny ant. It was madness. The booths and hallways were crammed with people. It was worse than a Christmas Posada. Everyone was pushing and talking at the same time. I had a map I had carefully studied, as I planned my visit weeks before my departure. Even then, I got lost. I circled and circled like a hula-hoop. I became claustrophobic. I even forgot my name. I fled.
*Advice: take a GPS
Once outside, the line to get a taxi circled the block. I was going to be late for my award! I took my place at the end of the line, resigned to wait. After a couple of minutes, a man came by and offered to drive the person directly ahead of me to his destination for $15.00. The man, who was dressed in a suit, accepted the offer. The driver then turned to me and made the same proposition. I accepted. I followed them down the block and got inside a black car with tinted windows. "What are you doing?" I thought, as soon as the doors of the car locked. The driver began talking rapidly on his radio in another language. I recognized only one word: babushka. Grandma. He was talking about me! In Russian! I knew it! This guy was a Mafioso and the suited guy, sitting next to me, was his accomplice. For a nanosecond, I thought about throwing myself out the window. But the window was also locked and besides, it was too late. The car was already speeding down the street. Suddenly, the driver demanded his money. Yes. He wanted his $15.00. I felt faint with relief. I was pretty sure that someone, somewhere, would pay more than fifteen bucks for my life. I opened my wallet, nervously, and I handed him my Visa. "I only take cash, lady," he barked. I searched through my purse. "Sorry, but I have no cash," I said. The accomplice smiled, opened his briefcase, pulled out his wallet and paid $30.00. "Don't worry," he said, "I got it." I was dumbfounded. The Russian mobster was a gallant gentleman! Grateful beyond words but also embarrassed. I declined his help, politely, and I asked the driver to drop me off at the corner. The man, having already pocketed the money, kept driving. "Lady, take his money, 'cause this don't happen in NY too much. You know?"
*Advice: Learn Russian
We arrived at the Instituto Cervantes, where the awards ceremony would take place, with time to spare. It was a beautiful place, elegant, with indoor gardens and an elegantly decorated cocktail room. The spread of appetizers was decadent. The guests were interesting and fun to talk to. I met several Latino writers, who, like me, had probably already found the perfect spot on their walls to hang their award. I met the organizers and took the opportunity to thank them for the immense support they provide to Latino/a writers. It was then, after a second sip of white wine, amidst cheese and crackers that Mrs. Doubt slowly crept into my soul. I recognized the feeling; I felt it many times before, and I should be used to it by now – an amalgam of insecurity and hope, a sweet and sour paste. Like mole. Perhaps I would not win – again.
The ceremony began and my anxiety grew as the names of the winners were called. I looked at the program and learned, for the first time, the identity of the authors who were finalists in my categories. As a rule, I never want to know who my competitors are, mostly to avoid disappointment. In the Best Novel – Spanish category, which was the one that mattered to me the most, I spotted the name Javier Sierra, the Spanish author of El Angel Perdido. Right then I knew the prize was not mine. Javier Sierra is a literary contest addict. He is also one of Planeta Editores authors, with many titles to his name.
It is difficult to unravel the storm of emotions I felt, all at once, that very moment. Here is my best attempt:
(1) Surprise – are you sure you read that name correctly? (2) Disbelief – did I really lose again? (3) Anger – that sucks! (4) Envy – why would she get that prize, her book is unreadable! (5) Contempt – I knew it! Contests are always pre-arranged! (6) Humiliation – now what the heck will I tweet or post on Facebook? (7) Self-hate – you are such a fool, did you really think you would win? (8) Sadness – Dear God, don't You think I have done my part here? (9) Dejection – I give up. I know "when to walk away and when to run," and the time is RIGHT NOW.
I wanted to run. Badly. Leave on the fly, like Cinderella, before anyone noticed that my carriage was, in fact, a pumpkin and my dress a loaner (from my sister).
And yet, I was not going to make a scene. I was not a poor loser. No. Cinderella was to smile and congratulate the winners, thank everyone for their kindness and even dine with friends and celebrate, because, after all, it was just a contest, something trivial, unimportant… I have to say, that was the worst, the condolences of well-intended people. Did not want to hear them…
*My advice: do not attend award ceremonies. Best to wait at home for the phone call, with the good (or bad) news with a cuddly pet (or person) at your side.
I allowed myself that night to "lick my wounds." Not a minute more, and not a minute less. The next morning, over our first cup of coffee, I asked my sisters to entertain me, to sing, dance, or tell jokes. Anything that would make me laugh. "That's why I brought you," I told them, "You are my anti-depressants." And you know? this is exactly why I love my sisters with all my heart, because that is what they did. They made me laugh so hard that we cried. In fact, this is when the true New York adventure began. Like we say in my country, we let it all hang loose.
*Polite request: Please do not tell our husbands or our mothers-in-law. What happens in NY stays in NY.
In less than three days we gobbled up the whole city: Broadway, the Financial District, Times Square, the 9/11 Memorial, the Statue of Liberty, Little Italy, Chinatown, The Met. We ditched our diets and ate everything we could think of: hot dogs, chocolates, pasta, cupcakes, cookies, you name it. We shopped, went to plays, went for runs, and we celebrated in every which way we could think of.
*My advice: bring your sisters everywhere you go. They will sweeten your adventures way more than any chocolate on the pillow ever could.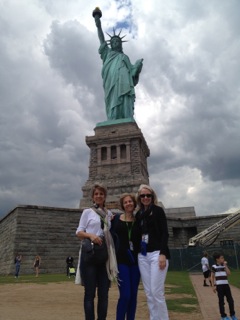 In conclusion, I am not sure if participating in literary contests is a good thing to do. The debate goes on and on amongst writers. Some believe that it is a waste of time. Others, like Javier, would die before missing one. If you want to learn more about the pros and cons, here you have the well-informed opinions of either Estrella Cardona Gamio or Raul Silanes
Patricia-Ramos As for me, I have decided that I will continue to go after my first place. Only next time I will go about it differently. First, I will ask my sisters which country they would like to visit. And then, this is where we will go, to win, or to lose. If we get invited to the award ceremony we will send our regrets. Instead, we shall celebrate (or not) the results on a beach, over mango margaritas.
On my wall, right next to my desk, I placed this photo, which I am now sharing with you. Someday, I hope to replace it with a first place award that will come, without Mrs. Doubt, with the next novel. Meanwhile, here I am, like The Gambler, still betting.
Looking to get your article published on TheLatinoAuthor.com? Please click here to see our submission guidelines.