By Ronnie Stich
Publisher: Independently Published
Although this book was written for a young adult audience, I found the book appealing and read it in one day. The author incorporated page turners throughout the story, which made me want to keep reading . The story definitely delivered on its element of possible ghosts and the plot had several twists and turns.  There was just enough 'bumps in the night' sort of things that gave it that creepy element, but yet made the story plausible.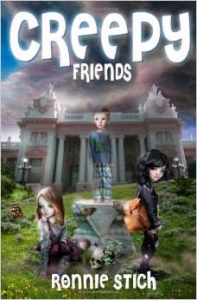 Alicia is the main character and Kathy is the 'knight in shining armor' who helps her new friend deal with a secret haunting going on within her household. The story is written with a twist to one of the characters that I didn't see coming; threw me for a loop to say the least. I'll just say that this character is named Marilyn.
It is a great young adult fiction book that incorporates very interesting topics such as great lessons on friendships, accurate depiction of teenage drama, insecurities, the need for acceptance by your peers, and of course the scary element.
The book is easy to read and the style is informal. It's written in a third-person point of view, which allows the reader to see a wider angle of things. The author did a wonderful job of getting the reader to become vested with the characters and made them three-dimensional; something that is essential to a good book. The book perfectly captures teenage life and the author does a fantastic job of revealing these intermittently throughout the story.
The book is only 169 pages long, but it packs a punch. Ms. Stich captured all the various elements of a good plot with a wonderful introduction, lots of suspense, and an interesting insight into the world of ghostly characters and their world. Very enlightening indeed!
Although it was geared for a young adult fiction audience, I would say to all those adults who may be reluctant to read it or pick up a copy, you'll be missing a good little story. I thoroughly enjoyed it and strongly recommend that you pick up a copy for that teenage person in your life, and when they aren't looking sneak and read the book yourself. I would say this to the author – quite clever plot!
Source: Book was provided by author for review. It was reviewed by Corina Martinez Chaudhry.