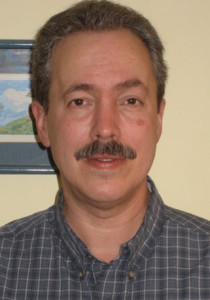 Rick Kearns, aka Rick Kearns-Morales is a poet, freelance writer  and musician of Puerto Rican (Spanish/Taino) and European background based in Harrisburg, Pa. Kearns' poems have appeared in the following anthologies: I Was Indian (before being Indian was cool) (Foothills Publishing, NY 2009);  El Coro/A Chorus of Latino and Latina Poetry (Univ. of Massachusetts Press, Amherst, 1997); In Defense of Mumia (Writers & Readers Press, Harlem, NY, 1996); and ALOUD; Voices from the Nuyorican Cafe (Henry Holt & Co., NY, 1994. Winner of the American Book Award.)  His work has appeared in literary reviews such as: The Massachusetts Review, Letras (lit review of the Center for Puerto Rican Studies, Hunter College, NY), Painted Bride Quarterly, Chicago Review, ONTHEBUS, Poetry Motel, The Blue Guitar, Drum Voices Revue (So. Illinois University Edwardsville), The Patterson Review, HEART Quarterly, Big Hammer, Palabra: A Journal of Chicano and Literary Art, Yellow Medicine Review, Fledgling Rag and others.
After his poem "Crows and Bullets" was translated into Spanish, Kearns was interviewed and then read from his work on an Argentine internet radio show called "La Consorte", hosted by poet Juan Daniel Perrotta; the show aired on Dec. 22, 2008.   Kearns translated his poem "The Geometry of Rage" into Spanish and it was used as part of a workshop on Psychological Extortion by Psychoanalyst Laura Blejer of Buenos Aires, Argentina in August of 2009. His poem "A View of Fazenda Garcia, Salvador, Bahia, Brazil" was translated into Portuguese and was read on a radio show in Salvador, Brazil in 2010.
Three of his poems, "Aurelio's Vengeance, Puerto Rico, 1901", "Pasteles" and "The Body of My Isla" are included in the poetry section of http://www.virtualboricua.org (since 2005).
Kearns has given readings of his own poetry as the featured reader in Harrisburg, Lancaster, York, Philadelphia, Pittsburgh, New York City, Baltimore, Camden (NJ) and other places since 1988, including colleges and universities such as Penn State University, Swarthmore College, Harrisburg Area Community College, and Rutgers University.  Much of his work deals with his Puerto Rican heritage and identity, including his Taino background. He has performed his work with musical accompaniment on various occasions, including sessions with: tabla; flamenco guitar; Latin percussion-congas,  timbales, etc.; jazz saxophone; upright bass; jazz trio of trumpet, upright bass, guitar.
His poetry has been published in three chapbooks and two full collections: Street of Knives (Warm Springs Press, 1993), Boricua In Between (1997), Jazz Poems (1997), Endtime Poems, (1998, Pacobooks), and in 2007 he published The Body of My Isla.  Red Pagoda Press has published five of his poems in brochure form since 2000.
As a journalist Kearns has written for daily, weekly and monthly news publications since 1986. In the last decade his work has focused on Latino and Native American issues.  Since 2006 Kearns has written about indigenous Latin American issues for "Indian Country Today" (www.indiancountry.com) the nation's largest Native American news publication, with special focus on stories from Ecuador, Columbia, Mexico, Chile, Brazil, Guatemala, Paraguay and Puerto Rico among others. By October of 2011, ICT had published well over 140 of his articles, several of which have been reprinted in over 40 online publications including a few in Latin America and Europe.  His article, "Native Environmental Hero" appeared in Native American Voices, a collection of poetry, prose and articles used in Native Studies courses in  over 50 universities.  In 1998 he won Best Interview of the Year from the National Federation of Hispanic Owned Newspapers for his interview with Manuel Rodriguez Orellana, spokesman for the Puerto Rican Independence Party. Since 1999 his articles have appeared in national magazines and newspapers such as Hispanic, Native Peoples, Native Americas.
Many of his articles dealing with the indigenous heritage of Puerto Rico are listed in a collection on the Caribbean Amerindian Centrelink: www.centrelink.org.  The CAC is a scholarly project organized and managed by Anthropologist Dr. Maximilian Forte.
Kearns has also given a talk, "No Longer Waiting for Justice/The Rise and Return of Indigenous Latin America" at Millersville Univ. or Pa in November of 2008.
Check out his newest book called "Tainos in New York, Articles about Taino history and the Tainos Cultural Restoration Movement, 1997-2013."
He received a B.A. in Spanish from Millersville University of Pa. (1984), and an M.S. in Journalism from Columbia University School of Journalism  (1986).
Contact:   ricardokearns@gmail.com