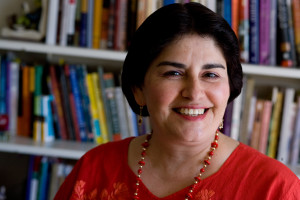 Diane Gonzales Bertrand has written stories and poems since childhood, but never saw books connecting to her Latino heritage. In 1993 Bertrand discovered Arte Publico Press, a Houston publisher who welcomed her familia-friendly adult novels like The F Factor, Sweet Fifteen, Lessons of the Game, and Close to the Heart.
Through its children's division, Piñata Books, she published Alicia's Treasure, a bilingual novel The Ruiz Street Kids, and two award-winning novels for middle school students Trino's Choice, and Trino's Time.  Her picture books Sip, Slurp, Soup, Soup/ Caldo, Caldo, Caldo, Family, Familia, The Last Doll, Uncle Chente's Picnic, and The Empanadas that Abuela Made have all earned "Best Bilingual Book" Latino Literary Awards. Other titles include a biography of Dr. Ricardo Romo, president of UTSA, Ricardo's Race/La carerra de Ricardo, and preschool titles like We are Cousins/Somos Primos. Her picture books, The Party for Papa Luis, Adelita and the Veggie Cousins and Sofia and the Purple Dress were finalists for The Tejas Star Book Award.
Upcoming titles include a bilingual short story collection for teens, There's a Name for this Feeling/Hay un nombre para lo que siento, and a bilinugal picture book, Cecilia and Miguel are Best Friends. Pecan Grove Press published her first poetry collection Dawn Flower in 2013.  Diane is Writer-in-Residence at St. Mary's University in San Antonio, Texas. She visits schools, libraries, and teacher education programs to discuss her books and the necessity of writing down personal stories.
Contact Information: Diane Gonzales Bertrand