1) In the distance by Hernan Diaz. Coffee House Press.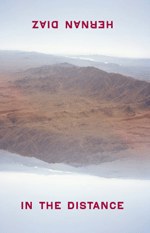 This is a story about a Swedish immigrant and his brother who are sent off to America by their father after selling a horse to get money for their passage tickets. Along the way, the brothers lose each other and the story becomes focused on the younger brother landing in California penniless, alone, and not speaking English. He begins a quest going East to look for his brother and along the way he meets various characters. Some are good but most are not. Throughout the book, the young Swedish immigrant is mostly alone, but yet his interactions with the various people he meets along the way are transforming in one way or another. A very descriptive and well written novel that captured me from the first pages. A must read book. Very entertaining.
2) In the Midst of Winter by Isabel Allende. Atria Books, an imprint of Simon and Schuster, Inc.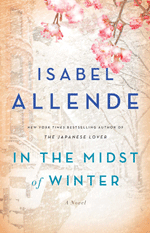 This is a dazzling story of three people whose lives dramatically change due to an accident between Evelyn Ortega (an undocumented young immigrant from Guatemala) and Richard Bowmaster (an NYU professor living in Brooklyn. Add Lucia Maraz, also an NYU teacher, who is Richard's tenant. The story comes together through much back history of all the characters. But most importantly the author provides all the substance the reader needs to bring the pieces together. It is a love story, a history lesson, and a humanitarian account of people at the low points of their lives and how they navigate through it all. A really powerful book and another must read by this excellent author who has brought us many good books throughout the years. Definitely one to read and have on your bookshelf.
3) Legacy for the Young Pistolero (Young Pistolero Series) (Volume 4) by Robert J. Alvarado. Sierra Press.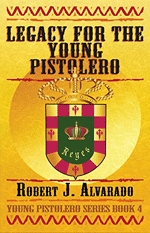 This is the 4th novel and saga of Rafael Ortega de Estrada. I can't emphasis enough how much I love these books. Mr. Alvarado is a story teller no doubt. Each book keeps you on the edge of your seat because you don't know what is coming next. The first book is titled The Young Pistolero, the second book is titled Star of the Young Pistolero, and the third book is titled Death Stalks the Young Pistolero. In the first book, Rafe shoots don Bernardo Reyes who has raped his sister and escapes taking a prize horse as he flees. Rafe encounters a white man that is left to die and saves the man's life. The man takes Rafe as his son and this creates a whole new life for both men. The second book continues with a gun battle where Rafe loses his beloved, Chiwiwi. He must also return to save his mother and sister from Bernardo Reyes who still resides at the hacienda. In the third book, Death Stalks the Young Pistolero, Rafe has settled in New Mexico and resumes his family life. He is smitten with a young girl by the name of Ana Teresa; however, there is another bachelor who is an aristocrat and is vying for her hand in marriage. In addition, a gunslinger is looking for Rafe as Rafe has murdered the man's brother. The fourth book doesn't disappoint as there are so many more twists and turns it makes your head explode, but in a good way. The new book includes revenge, Rafe's mother's shocking confession, a claim to property and so much more. As I've indicated before, I would love to see this on the screen one day soon. A truly great story! Can't wait for the next book.
4) This was Then by Julia Amante. Pristine Publishing.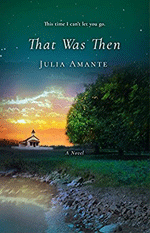 This is the story of a mother, who happens to be a doctor, battling her second bout of cancer. Dr. Grace Montoya is refocusing her life again, trying to make sense of it all and planning to pass down her life lessons to her daughters before it's too late. Everyone is striving to cope with this news and trying to find ways to make things better for Dr. Grace Montoya. Grace's mother has made a deal with God, various medical cures are offered by her peers, but in the end it's her 17 year old daughter who brings forth the medicine no one was expecting. Her daughter is determined to find the mysterious man her mother once loved and who she had a secret affair with – Daniel Subia. It is a story of family, love, heartache, and everything in between. If you want a good love story then this a must read book.
5) I Am Not Your Perfect Mexican Daughter by Erika L. Sánchez. Borzoi book published by Alfred A. Knopf (Imprint of Random House Children's Books).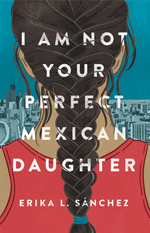 The author has created a great protagonist named Julia who is trying to find her way after her sister's death. The book is written in first person and really delves into Julia's personal thoughts and feelings sharing what she really feels towards her parents, her dead sister, and her friends. The book depicts a Latino family, the culture, and the many unconventional behaviors associated with her family, or maybe conventional depending on where you're coming from. The story is told with humor, but yet it captures a true to life picture of a young teenage girl growing up in Chicago and not succumbing to the 'standard' upbringing within a Latino home. There's a little bit of everything in this novel; coming of age, death, parent-child struggles, culture challenges, sibling differences, and a little bit of Sherlock Holmes snooping. Such a fun book to read. It won't disappoint that's for sure.
6) Havana Libre by Robert Arellano. Akashic Books.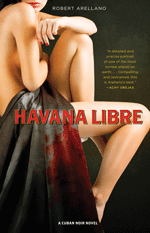 If you like politic thrillers, then this is the novel for you. It's explosive, intriguing, a true page turner filled with many twists and turns. It is the story of a Cuban doctor sent to Miami with to uncover a series of terrorist bombing taking place in Havana. The time is 1997. Definitely one to put on your reading list. You won't be disappointed.
7) More Happy Than Not by Adam Silvera. Soho Press, Inc.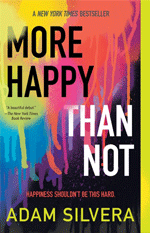 The protagonist, Aaron Soto, is struggling with his father's suicide. His mother and girlfriend do their best to make him whole again, but it's not working. Aaron's girlfriend leaves for a couple of weeks and during that time Aaron begins to spend time with his newfound friend Thomas. Thomas' friendship gives Aaron what he needs and things begin to take a romantic turn. Tensions begin to build amongst his friends, but it doesn't stop the feelings Aaron has developed for Thomas. Aaron even considers going to the Leteo Institute for a revolutionary memory procedure that could help alter his feelings and change who he is. It is an awareness and strikingly powerful novel that includes heartbreak, queer romance, and even near-future sci-fi.
8) The ILiac Crest by Cristina Rivera Garza. Feminist Press (City of New York).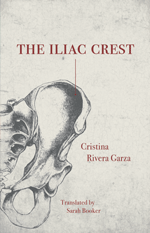 To call this story disturbing would not be far from the truth. It will leave the reader asking, "What just happened?" The story is about two women who interrupt the narrator/doctor's home and life. The first who arrives is the visitor and the other is the doctor's former lover who he refers to as 'Betrayed.' At first the narrator/doctor is mesmerized by the visitor's sexuality, but then his reality takes a turn and he begins to question all that he believes to be real. The story quickly transgresses into the eerie and begins to take life. The unknown visitor claims to be Amparo Dávila, a Mexican writer from the 1950s and 60s using the ploy of trying to retrieve a stolen manuscript. The story is intricately woven to include suspense, erotica, and to push the boundaries of the male-female scale for the reader. A very clever and intricately written book. Not for the faint of heart.
9) The Night of the Virgin by Elliott Turner. Round Ball Media Publishing.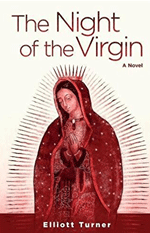 This is the story of a young man who was brought to the United States as a young child and is forever avoiding the Border Patrol checkpoints, but yet his dreams of becoming a soccer player never waiver. The book encompasses the many struggles of the Latino community; poverty, spirituality, and alcoholism and the many other tangents we may have experienced or heard about. One day, he braves the check point with his sister and best friend Hector and goes to San Antonio. If you are a soccer fan you'll enjoy the full descriptions of the game. If you're not a soccer aficionado, you soon will be. There are many twists and turns to list, but it's a great story and truly enjoyable.
10) Wicked Weeds by Pedro Cabiya. Mandel Vilar Press.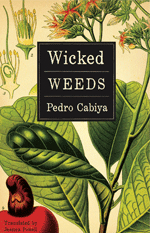 This book takes on a different spin as it is written from the perspective of a zombie. An interesting writing structure but enlightening. It's about a Caribbean zombie who is filled with intelligence and looking for a formula to reverse his zombie status to turn him back into a real human being. The book is filled with humor, passion, and everything in between. If you like zombie type books, then this is the one for you and just a fun book to read.