By Yvette Marquez-Sharpnack, Veronica Gonzalez-Smith, Evangelina Soza
Photography by Jeanine Thurston
Publisher: Hippocrene Books – New York
These three women have put together a wonderful cookbook detailing Mexican Cuisine recipes that have been passed down through generations. This book would clearly stand up against some of the greats that we've all come to love throughout the ages such as the "Betty Crocker's Cookbook" or "The Joy of Cooking." It is as wonderful as the "Wheat Belly Cookbook," or "The Italian Slow Cooker," on various bestseller lists for 2012 and 2013. Why this book hasn't been included on one of these lists is beyond me.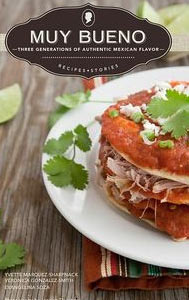 The book begins with some insight into how the recipes were developed or passed down through generations. What is most helpful is a glossary for the various types of chili used in Mexican cuisine. If you are not familiar with these variations it's an excellent guide.
Each recipe provides a glimpse into family stories that make the recipes even more inviting, as well as provide suggestions on how to enhance the recipes. I enjoyed reading each story as I began the exploration of which recipe to try next. I can honestly say thus far I have tried several recipes and each dish has come out almost as picture perfect as the book suggested. The pictures used for this book were amazing and enticing, so lots of kudos to the photographer that captured the perfect photos for each of these recipes. If I had one complaint, it would be that the writing was light in color. If you have intense lighting the glare of the gloss against the writing could be a little distracting; however, that is a small inconvenience in comparison to the overall benefits of the cookbook.
This book is packed with a variety of recipes. It includes recipes on how to make tamales (the authentic way), breads, salsas (one of my favorite sections), drinks (second favorite section), appetizers, and just so much more. You can tell that the book was organized with much attention to detail.
It is a 279 page book of high quality; from the value of the recipes, to the easy-to-follow instructions, to the pictures, to the rich glossy feel of each sheet, and the overall indexes. The book is definitely worth the price and I can almost guarantee you'll be referring to this cookbook time and time again whether you're a novice or a seasoned cook. Bon Appétit!
Source: Book was provided by author for review. It was reviewed by Corina Martinez Chaudhry.
Looking to get your book reviewed? Please click here to see our submission guidelines.