Rights in the Publishing World
If you are not familiar with a writer's rights or do not know much about how payment works in the publishing world, it is best that you familiarize yourself with this facet of the publishing business.  It's always best to check with a literary attorney before proceeding with any type of contract if you are not familiar with terms, rights or payments.  There are some basic rights that every writer or author should be aware of and understand.
The first one is the "One-time or   first North American serial rights."  This allows an author to publish their story once and to publish their story for the first time in North America.  If you have not agreed to any other terms then this allows you to sell the reprint.
The second one is "All rights."  This indicates that you cannot resell an article if you have agreed to sign all your rights away.
The third one is "Electronic rights."  This allows you to publish your written material on the internet or on a CD-ROM.
The fourth one is "Reprint or second rights."  This allows you to publish your article a second time.
You can possibly begin making more money for your written work; however, this all depends on the rights that you agreed to give away or keep.  Not giving away all your rights allows you to make money by reprinting the pieces for non-competing markets.  Always sell as few rights as possible, but don't worry about it too much when you're just starting out.  Your editor can assist in deciphering some of this legalize language; however, if you have a literary attorney at your fingertips use them to get clarification.  Another source to consult is the The Writer's Market.  There are also books that can assist in interpreting contract language and this may be a good investment for your writing career.
Payments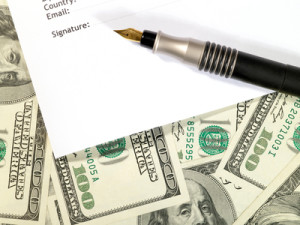 Rates vary greatly between publishing houses.  Some of the larger national magazines can pay between 75 cents to 2 dollars per word.  The local markets pay around 10 cents per word.  Check the magazine for their pay rates if you are not sure of their payment amounts.  You will find some magazines only pay one cent per word.  Still others only pay a flat fee.  If this is your first job it is usually best that you take what is offered.  At this stage of the game you really don't have much leverage and just keep in mind that it's a step in the right direction to enhancing your writing resume.
Below are some general overall guidelines as to what magazine publishers "may" pay.  This is only a guideline and it can differ widely between publishers.  When looking for a market to sell your article, remember that there are magazines and publishers in all parts of the world.  They are not just located in New York, Los Angeles or in the huge metropolitan cities.  There are local as well as national publishers.  Listed below is a guideline to the different types of markets that you may want to solicit.
Fraternal type magazines:  These are magazines such as the masons or Kiwanis type clubs.
House organs:  These are magazines that cater to employees or products of a particular corporation.
Industrial type magazines:  These magazines cover things such as steel production, wastewater treatment, disaster recovery, travel type magazines, etc.
Local newspapers and magazines:  These are magazines that usually cover the local news only or magazines geared just for a particular community.  These magazines don't usually pay much but they provide a great opportunity to get started.
National organization magazines:  These are magazines that cover huge organizations such as Mothers against Drunk Driving (MADD) or the Parent Teacher Association (PTA), etc.
Religious market magazines:  These bring in little money but are another way to get started in the business and especially good if you have an interest in this topic.
Speeches:  These jobs can pay well but you are always in the background.  You are essentially a ghost writer.
Technical writing jobs:  These can pay well but you really have to do research or work in a particular industry to understand what you are writing.
Trade journals:  These are the top notch magazines that can pay well but you need to have a very good skill.  You need to understand the workings of a good reporter (who, what, where, when, and why).  You need to know how to dig and research material and be able to interconnect and network with people in the trade.  You have to be able to interview and meet specified deadlines by editors.