This week's featured author is Sergio Troncoso. Mr. Troncoso is the author of several books with two books released in 2011; From This Wicked Patch of Dust depicting the Martinez family on the U.S. – Mexican border struggling to stay together and also the book Crossing Borders which is a collection of essays bridging the gap between poverty of the border and the highest echelons of success in America.
Sergio Troncoso was born in El Paso, Texas but currently resides in New York City. After graduating from Harvard College, he was a Fulbright Scholar to Mexico and studied international relations and philosophy at Yale University. In addition to being an author and keeping a monthly arduous appearance schedule across the United States, Mr. Troncoso also maintains the blog  www.ChicoLingo.com which provides information on writing, politics, and finance.  Read our interview with Sergio Troncoso and learn what inspired him to write and how he addressed some of the challenges that came his way.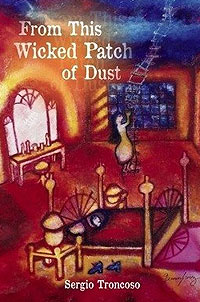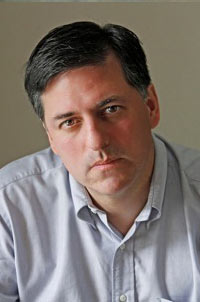 What inspired you to get into writing?
I was inspired to get into writing by my maternal grandmother, Dolores Rivero, who was a fantastic oral storyteller.  She grew up during the Mexican Revolution, and shot and killed two men who attempted to rape her.  As she always told me, "There was no 911 in the middle of Chihuahua, with different armed horsemen invading your rancho every month. You had to learn to defend yourself."  The very first story I wrote, "The Abuelita" is about her.
My paternal grandfather, Santiago Troncoso, was also an early influence.  He was a famous newspaperman in Juarez, editor and publisher of El Dia, one of the first daily newspapers in Juarez in the 1920's.  He was arrested some 50 times, and his print shop firebombed 3 times, for writing articles against the government.  He wrote the way he saw it, and that righteousness is certainly a part of my writing.
When did you first start writing and when did you finish your first book?
I first started writing fiction in graduate school at Yale.  I was a philosophy graduate student, focused on Nietzsche, Heidegger, and Wittgenstein, but I also felt lonely.  What I was learning was difficult to communicate to my parents, my brothers.  So I wrote a story about a Chicano grad student at Yale who calls his abuelita and discusses and debates Heidegger with her.  It was philosophy and literature, a combination, and when the story was immediately published I started writing more stories.  I focused on writing philosophical, psychological stories that would be entertaining, and not the stuff of traditional Latino literature.
I finished my first book, The Last Tortilla and Other Stories, a few years after finishing my second graduate degree at Yale.  I would guess it took me about four years or so, and I was working at the same time, and also moving around, trying to find my place in the world.
Can you tell us about challenges in getting your first book  published; agents, publishers, marketing, etc.?
The greatest challenge was simply trying to get someone to pay attention.  The more I published my short stories, the closer I felt I got to getting my book published.  About half the stories had been published, and I had sent the manuscript to the University of Arizona Press.  It was almost a year before I heard back.  The acquisition editor had changed, and Patti Hartmann picked up my manuscript from the 'slush pile' and loved it.  She immediately wrote to me, and asked me if the manuscript was still available.
You do have to travel a lot to promote your work, and I more or less understood that with The Last Tortilla.  I also received great reviews, and won a few prizes for it, so all of that helped me.  But I also developed a website, and loved talking to audiences across the country.  I was also often invited to speak at universities, and so forth, so that was also helpful.  You are in a partnership with your publisher, and you must work well together for the same goal, the long-term success of the book.
What book(s)/author(s) have influenced your life and writing?
To be a writer, you have to be a reader.  As a young man in high school, I loved Mark Twain, S.E. Hinton, Rudolfo Anaya.  In college, I read novels and short stories by Faulkner, Hemingway, and Fitzgerald.  In Mexico, I spent a year reading Vargas Llosa, Paz, Garcia Marquez, Allende.  I read as much philosophy and history as I do literature.  That has not changed.  Recently I have been reading James Joyce, Emily Dickinson, Walt Whitman, Nietzsche.  I do read contemporary literature, and I mostly focus on writers I know and love like Rigoberto Gonzalez, Maria Melendez, Junot Diaz, Ernesto Quinonez, Dagoberto Gilb, Brighde Mullins.
What advice can you give aspiring writers; on business, on writing, or on how to get started?
You have to jealously guard your time to write, and be disciplined beyond belief.  You have to say no to family, to friends, so that you can get your work done.  You have to go beyond tired, beyond 'I can't do it,' beyond 'I don't know,' to get to where you want to be.  You have to be a life-long learner, to improve your craft at every turn, and not shy away from taking risks.  You have to sacrifice, and sacrifice some more, and be open-minded, and never give up on writing, because if you are truly a writer then there is nothing else you can do.
Can you tell us about your upcoming projects and/or recent books?
I published two new books in September of 2011.  From This Wicked Patch of Dust is a novel about the Martinez family from Ysleta, Texas, and how they struggle to stay together despite the children taking different cultural, religious, and even political routes to becoming American.  Crossing Borders: Personal Essays is a collection of essays about fatherhood, my struggles as a writer, my wife's battle against breast cancer, and how I made the leap from Ysleta to the Ivy League.
I am also working with Sarah Cortez on an anthology of essays about how the violence along the border has affected culture and families from both sides, tentatively titled, The Lost Border.  We hope it will be published in 2013.