This week, TheLatinoAuthor.com is featuring author Adriana Paramo. Ms. Paramo began her career as an Engineer, an anthropologist, and now has changed gears and moved towards writing. Although born in Bogota, Colombia, she grew up in Medellin. She is a woman rights advocate and strives to tell the stories of the many courageous women that have crossed paths with her life. Read our interview with Adriana to see what compelled her to become successful as an author.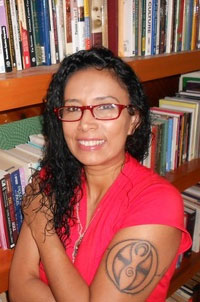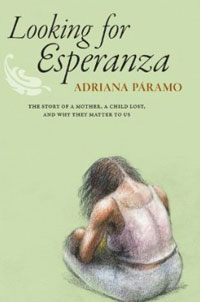 Can you tell us a little bit about yourself; where you grew up, where you currently reside, what you would like our readers to know about you?
I was born and raised in Colombia. I left my homeland in 1992 after working as a Petroleum Engineer for BP (a job that taught me that I wasn't cut out for the corporate world); therefore, had wasted the previous ten years of my life in the oil industry. I moved to Alaska, and with my basic command of the English language, I managed to make it back to school and graduate. Much to my amazement, I graduated Summa Cum Laude in the field of Cultural Anthropology. This training came in handy when later I moved to the Middle East where I worked with Indian maids and started my work as a woman rights advocate.
I came back to the U.S. in the year 2000; this time to reside in Florida with my husband and my daughter. In the last twelve years I have been a college professor, a Zumba dancer, a translator for a local supermarket chain, a private tutor for Seminole natives, a ticket vendor of helicopter rides, a graduate student, and of course, a writer. And I've done all of it with a thick Colombian accent while blasting salsa songs in my car and eating whole mangos over the sink.
Majoring first in Petroleum Engineering, then Anthropology, and then moving towards writing is a huge "life" change. Was there a specific event that moved you to begin a writing career? Can you tell us a little bit about this?
I think I have always been a writer. It must have been fated at conception. My father was a silver-tongued book lover and my mother a hopeless romantic. I am the youngest in a family of six, all of them, avid readers and lovers of music and art. It was bound to happen. When my mother saw me struggle with math in high school she told me not to worry – my thing was words not numbers. And later when I decided to become a Petroleum Engineer my mom reminded me that I was biting off more than I could chew. You're un ratón de biblioteca not a scientist. I became an engineer just to prove my mom wrong. It would be another twenty years before I published my first piece. Unfortunately, mom wasn't around to see it.
The anthropological field work I did in Kuwait among Indian women gave me the writing bug. After I finished the research, I began conceiving different ways to turn research into prose. This manuscript, which I started writing more than 12 years ago, still is a work in progress. An excerpt from the rewrite has been accepted for publication by the literary journal of the Bluegrass Writers Studio out of Eastern Kentucky University. I hope this marks the beginning of a life for this first attempt at book-length writing, which if memory doesn't fail me, I started writing in the middle of an atrocious sand storm back in the 90s when I was still living in Kuwait.
On reviewing your undertakings as a global trotter and writer, it appears you went from a technical writing environment to a fiction and non-fiction writing experience. Was this an easy or difficult change for you?
The transition has been smooth and very much a succession of realizations. First, I realized that although I could probably be a decent engineer and technical writer, it was not where my heart was and therefore moved on to something different. On occasion I write fiction, but then again it is not where my heart is. Nonfiction writing is home for me; it is where I am most comfortable as well as most challenged as this type of writing demands that the writer be bold, candid, and work with the enormous emotional load that comes with writing about real life. I find nonfiction liberating inasmuch as it allows me to go places that fiction wouldn't necessarily lead me to.
After writing Looking for Esperanza you begin a memoir. Why did you decide on a memoir at this stage of your life? Can you elaborate as to what moved you to do this?
A few years ago, I read in a local newspaper the story of an undocumented mother who walked the desert from Mexico to the USA with the dead body of her baby strapped to her own. This story affected me greatly. I took it upon myself to find Esperanza and her story. What I discovered at every migrant trailer camp I visited up and down the Florida peninsula was a woman with an equally compelling story of loss, disease, deprivation, fear, and anonymity.
In Albuquerque, at the National Latino Writers Conference, when Looking for Esperanza was just an idea I met a New York based agent who agreed to represent the yet-to-be-written manuscript telling the life stories of the women I encountered on my journey. But as fate would have it, during the last phase of the compilation, my mother died and her death brought Looking for Esperanza to an abrupt halt. I went through a long, dry period during which it became apparent that I would never finish the project. My agent offered the incomplete manuscript to various people, got a couple of near bites, but eventually gave up. I also gave up and Looking for Esperanza remained untouched for years.
I later accepted a dead end, soul-crushing job in a tiny cubicle as a bilingual ad letter writer for a supermarket chain. The job involved short surges of intense activity and long periods of down time. It was in that cubicle where during a phase of total inactivity at work, I started to work on My Mother's Funeral; a memoir about growing up in Colombia with my single mother and my four sisters. I wrote a few drafts, quit my job, and was accepted into a Creative Writing Graduate program. I then continued revising and rewriting until my book started to take shape. It was only after My Mother's Funeral was accepted for publication that I mustered the courage to finish, revise and rewrite Looking for Esperanza.
I realize that writing a memoir is sometimes helpful and therapeutic. Has this been your experience? Can you share your road journey on this?
I had a healthy, uneventful childhood; therefore, devoid of disturbing memories in need of therapy. So in that sense, no! Writing this memoir was not therapeutic as it did not offer a cure to any unresolved issues lingering from the past. But it was helpful in that it allowed me to better understand the volatility of the mother-daughter bond. It gave me a clearer idea of what it must have been like to be a single mother of six, poor, border-line illiterate, yet to survive as a clan. This memoir taught me about the resilience of the women in my family and therefore of Colombian women as a whole.
I did a lot of crying while writing My Mother's Funeral. My mother and I had a special bond. It was one that covered a wide spectrum of emotions. Our bond was volatile, mean-spirited, crazy, possessive, complex, loving and in this truth about the nature of motherly love, I recognized the irrefutable truth of my own role as a mother: that my daughter and I will love, dislike, resent, possess, manipulate and drive each other crazy, but underneath the stage on which our differences and conflicts take place there is an unshakable, formidably sturdy foundation of nothing but sheer love. This goes to prove that my mother was right after all. She used to say, "no hay amor mas verdadero que el amor de madre."
Who are some of the mentors or key people that have inspired you in your life? Did these people inspire you to write or just in life?
I could write a few more books about my mother. She was quite a character. She had this no nonsense personality, a will of steel, and loved her children and husband fiercely. My sister's lives could also fill a few nonfiction books. For the last 15 years I've been surrounded by women whose lives inspire me both to live and to write. It is the women I shared my life with while living in Kuwait, the undocumented women I worked with in the Florida fields, the army of social workers and immigrant rights' advocates I encountered, my own daughter's life (marked by this cultural schism I forced upon her with my travelling), and a group of middle-aged women I consider my friends – all of them are infinite sources of inspiration. Such is the nifty nature of nonfiction writing. If I need a story to write, all I have to do is look and the story will reveal itself.
About mentors: When I decided to go back to graduate school to pursue a degree in creative writing I took a nonfiction workshop with Ira Sukrungruang. He took me under his wing and was actively involved in the rewrite of My Mother's Funeral. He also wrote the foreword for it, and has been cheering me on all along.
What advice would you give to emerging writers that are just beginning? What inspiration or encouragement can you provide to our readers to keep them moving forward when that writer's block kicks in?
My first recommendation would be – be disciplined! Make writing a job, something that you do routinely whether you feel like writing or not. If you have a day job, allocate a block of time for nothing but writing. Turn off the wifi, the cell phone, the TV, and everything else. Just write. Set reasonable goals and deadlines (this story needs to be ready by —/—/—) and get to it.
The second recommendation has to do with submissions. There is no point on setting goals and writing one's heart out if nobody reads your work. After you're done with revisions and rewrites, start looking for places to submit. Don't get discouraged by rejections. They are part of being a writer. The editor rejecting your work has 100 different reasons for doing so. Don't take a rejection personally.
And if you don't have a day job and can afford to work on writing from 8 to 5 every day, do it. Writing is much more than coming up with ideas and putting them on paper. It requires research, fact-checking, and looking for magazines and places where you want your story to be featured. It takes reading – a lot of reading! It takes keeping informed about the industry and who is writing what. It takes mindful reading of other people's work. When you read, you read as a writer. This is to say you look for literary style and for linguistic quirks. When you read, you must re-read a paragraph because it works, and then you need to find why it works. Writing takes an unquenchable thirst for learning.
Currently you co-produce LOL, Life Out Loud in Tampa Bay, Florida. Can you elaborate on what this is and what is the overall goal for this reading series? Where do you hope to take this?
We founded LOL with a simple goal in mind: to provide people in Central Florida with a stage for them to share personal stories with an audience of strangers. The idea of the series is to offer a place where you become a voyeur; where you are allowed to peek into someone's dark, embarrassing, heartbreaking, lustful, poignant moments – all in a safe environment. I want to champion the dissemination of nonfiction, bring onboard people from all walks of life (writers and non writers) and encourage them to be bold and take a leap of faith with a crowd of strangers. That's what memoirists do. That's what nonfiction is all about – courage and faith in the understanding of your readers.
Where do I hope to take LOL? It'd be lovely to develop a faithful following and to be able to fill places bigger than your regular coffee house. So far I have been able to integrate music into our readings by inviting local musicians; although, the dream is to be able to integrate other artistic expressions such as dance and painting.
Tell us what is next on your writing agenda as I know our readers would be very interested to hear about any new writing ventures on the horizon.
First, I need to work on the promotion of Looking for Esperanza, now available in amazon.com and spdbooks.org. Although I've been published in numerous literary magazines in the USA and Canada, this is my first book-length publication and I'm still feeling my way around, trying to learn the business side of writing.
Women's issues are dear to my heart so I am revisiting and in the process of rewriting Desert Butterflies, a book about a group of women with whom I became involved with while living in Kuwait. I also run a travel blog which gets weekly updates, and I have been asked to contribute work to a couple of anthologies.
All in all, I'm in a very good place. No me espera ni dinero ni fama, but I feel immensely fortunate.
Contact: www.ParamoAdriana.com