This week, TheLatinoAuthor.com is featuring first time novelist Melinda Palacio. Although this is Ms. Palacio's first novel, her short stories and Poetry have been taking the literary world by storm for several years and have appeared in a variety of publications. This is due to Melinda's ability to make words echo as if in song throughout her works.  Her remarkable ability to write will keep you enticed to the very last sentence.  Read our interview with Melinda Palacio and learn what inspired her to write, the challenges she faced in becoming a writer, and her upcoming projects.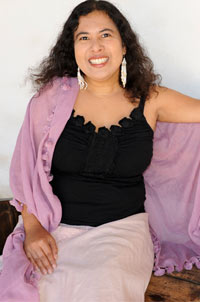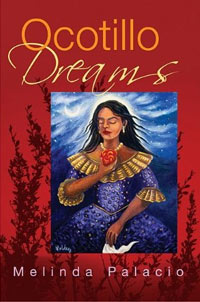 What inspired you to first begin writing?
As a self-taught journalist, I learned there were limits to what you could say when reporting on facts. When I started writing fiction and poetry in 2000, I found a renewed sense of freedom in words. Fiction and poetry allowed me to make up stories, even if they were inspired by real life, and revel in language and metaphor.
Can you tell us about challenges in getting your first book published; agents, publishers, marketing, etc.?
I was lucky because I didn't fret over getting my first book published. I wanted to learn the craft and I wrote, and still continue to write, without worrying about finding a publisher or agent. More important is the work and writing a good story or poem. After completing the PEN Emerging Voices Fellowship in 2007, Bilingual Press was the fifth publisher I had sent my manuscript to. They wanted to publish Ocotillo Dreams because the novel is set in Chandler, Arizona, near Arizona State University.
My advice to writers is to write. You are a writer. It's surprising, but I often encounter people who say they want to write or be a writer or publish the "idea" they have for a novel and yet they have never written a word or sentence other than abbreviations and emoticons in their text messages.
Journalism taught me that your byline is important. Agents and publishers want to see that you've published your work and that you write a blog on a regular basis and have followers, potential readers, and an audience.
I made sure to publish shorter pieces, non-fiction pieces for newspapers and magazines, short stories and poems. I talked about Ocotillo Dreams before it was a published book. I mentioned it when sending out poems and short stories for publication, when applying for fellowships. My main marketing tool is persistence and showing up.
What book(s)/author(s)/other people have influenced your writing?
A year after I moved to Santa Barbara in 2002, the entire town was reading TC Boyle's The Tortilla Curtain. The novel and Boyle's short stories have greatly impressed me. Denise Chávez, Luis Alberto Urrea, and Luis Rodriguez inspired me to read their respective canons. I learn so much from reading books by good storytellers.
In my own family, my grandmother is the storyteller. I got so much material from listening to her. Thanks to Mary and Eddie Ortega, I've heard great Chicano authors, storytellers, and musicians.  One of the first author presentations I recall is going to hear Michele Serros with Mary and Eddie at Martinez Books in Santa Ana. Michele had mentioned that one of her stories in Chicana Falsa was transcribed from a conversation. This nugget of information was transformative for me. At the time, I wasn't interested in writing creatively, but I must have filed the memo in the right place. I'm glad I was paying attention.
What advice can you give to aspiring writers?
Pay attention, be nosy, and listen when someone is telling a story. Turn off the gadgets and tune in. Peruse people's bookshelves, read their favorite books, especially if the subject is new to you. Show your work to a writer you admire and trust. Rejoice when a rejection comes your way, it means you're that much closer to an acceptance. Listen to criticism, but know it only takes one editor to be wildly excited about your manuscript to rally for your book getting published.
Can you tell us about your upcoming projects and/or recent books?
Luis Rodriguez and Tia Chucha Press will publish my first full-length poetry book, How Fire Is a Story, Waiting. I'm very excited that more of my poetry will be available. I'm very grateful that my poetry chapbook has been so well received.
Currently, I'm working on a new novel, set in the sixties. I've enjoyed researching the time period and listening to the incredible music from the era.
Visit her at  www.melindapalacio.com