This week, TheLatinoAuthor.com is featuring author Manny Pacheco. In addition Mr. Pacheco has a very distinguished career as a radio broadcaster. Read our interview and see what inspired him to also pursue a career in writing.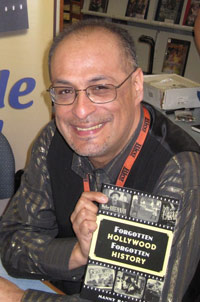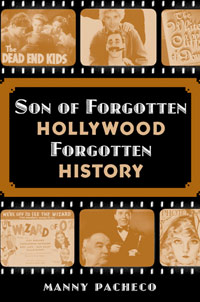 Can you tell us a little bit about yourself; where you grew up, where you currently reside, or what you would like our readers to know about you?
I'm a Southern California native. Born in East Los Angeles, I grew up in Sherman Oaks and went to Van Nuys High School (Go Wolves!). When I got married in 1992 I moved to Cypress where I currently reside with my wife.
I'm a radio broadcaster; and have worked at KRLA, KFI, KBIG, KIK, KKBT, and KNAC. On television I have worked on NBC's Santa Barbara, PBS's station fundraising campaigns, the Daytime-Emmy nominated In Studio on KCOP, and a variety of commercials. I'm a thirty-year member of the Screen Actors Guild (SAG) and the American Federation of Television and Radio Artists (AFTRA). I was recently inducted to the Pacific Pioneer Broadcasters whose membership includes Betty White, Robert Wagner and Art Laboe.
You wrote the book "Forgotten Hollywood." What prompted you to write about this particular topic?
Growing up my parents always stressed education. With their encouragement I graduated UCLA with Bachelor of Arts degree in Political Science.
But my grandmother loved the Humanities; films, television, music, etc. She inspired me in my youth to watch "The Fabulous 52" on CBS; and the "Million Dollar Movie" on Channel 9 in Los Angeles. As she got older, Margaret Prouty (my grandma) became house-ridden, and I would visit her during the day. Together we would turn on whatever classic films were on television. We discovered Turner Classic Movies and we would watch Bette Davis/Claude Rains films. She had a real love of the horror/science fiction genre. Her favorites included "King Kong," "Mighty Joe Young," "Abbott and Costello Meet Frankenstein," "The Wolf Man," and "THEM!" I dedicated my "Forgotten Hollywood" book series to her. She unfortunately passed away in 2009 before my first book was published. My grandmother was 90.
Did you always have the idea to write, or was this something that you decided to do later on in life?
I never thought of myself as an author, but creatively it's no different than acting on a commercial, or airing a daily radio program. I started writing articles in early part of the 2000s for the "Karaoke Scene Magazine." When my wife, Laurie, and I attended the Screen Actors Guild Awards about seven years ago, I wrote a story about the experience of walking the Red Carpet that appeared on LARadio.com.
I became enchanted with the possibility of a writing career after I watched John Adams on HBO, which was based on the novel by David McCullough. Adams was a Founding Father that lived in the shadow of Washington, Jefferson, and Benjamin Franklin; yet, he has a compelling life. Also, Chris Matthews had a guest on his "Hardball" program on CNBC; a returning Iraq War vet, who kept a diary of his returning to his hometown with the remains of a fallen comrade. This diary became a book, and the story was turned into an HBO special that starred Kevin Bacon. I realized that one can write about anything, if you have the passion and desire. I haven't stopped writing since 2008.
I decided then to start writing about what interested me: The lives of character actors who lived in the shadow of Hollywood and American history. I had found my niche… my strategy for the stories in each chapter, including the careers of folks like Frank Morgan, Lionel Barrymore, Marjorie Main, Cesar Romero, Peter Lorre, Basil Rathbone, Walter Brennan… 36 in all, so far.
Can you give us some insight as to some of the hurdles that you've encountered in the publishing and marketing industry regarding your book?
I've been very lucky as a first-time self published author. Thanks to Sheryn Hara and the Book Publishers Network in Bothell, Washington, my work has been developed into what I consider Harper Collins-quality paperbacks, complete with a Library of Congress ISBN number. And, my work is distributed through Danforth Distribution. Their efforts have afforded me remarkable covers, an imaginative layout, and literary homes on Amazon, Barnes & Noble, Independent Book Stores all over the country, and prestigious gift shops, such as the Hollywood Heritage Museum, the Paley Center for Media in Beverly Hills, CA, the Niles Essanay Silent Film Museum in Fillmore, CA, and It's a Wonderful Life Museum in Seneca Falls, NY. My books are also in library chains throughout the globe. At the Richard Riordan Public Library in Los Angeles, the librarians honored my first book, Forgotten Hollywood Forgotten History, by making it a reference copy. You can also find my work at the UCLA Film Library, and Michigan University Arts Library.
I'm thrilled that my book series has won accolades and major recognition from the World Book Awards (2010), the USA Book News National Best Book Awards (2009; 2012), the National Indie Excellence Awards (2012), the Hollywood Book Festival (2010: 2012), and the Los Angeles Press Club (2012).
That said, the road hasn't always been easy. C-SPAN's Book TV and other media outlets refuse to interview me because I'm self-published, or because my work is only available as a paperback. Also, some literary blogs will not co-link with my "Forgotten Hollywood" blog site because they deem it as a profit enterprise. This, despite the fact that a majority of my blog stories share engaging tales about Hollywood's Golden Age… past and present.
When structuring your book, were there any major challenges that you wrestled with and how did you resolve those?
Deciding to become a self-published author was a huge decision. However, Hara convinced me that living on the West Coast might be a detriment to getting a publishing chain like Simon and Schuster to accept me as a serious author. When I signed on to the Book Publisher's Network in April of 2009, my first book was in stores for sale by Christmas of 2009.
Also, a real tough decision was how to find close to 170 photos without having to pay an enormous amount of money as compensation for use. I discovered the wonderful world of Public Domain, which allowed me to vividly add to my storylines with the use of pictures. Once I overcame these initial hurdles, churning out chapters for Forgotten Hollywood Forgotten History and Son of Forgotten Hollywood Forgotten History have been quite easy.
What was the most difficult part about writing your book? How much research did you have to do for this?
Really, the hardest part was developing the concept for each chapter. The strategy of telling the stories of actors who lived in the shadows of A-List stars like Clark Gable, Katharine Hepburn, John Wayne, Jimmy Stewart, Cary Grant, and Greta Garbo freed me from the shackles of sharing interesting, yet often told tales about Hollywood's Studio Era. The titles of my book emphasize the forgotten nature of supporting players on Hollywood's studio lots; folks who are a generation or two from completely being forgotten.
The strategy of telling seldom-told stories is a challenge to research since I still want to keep my readers engaged with what I call "Hollywood-and-Vine" moments, stories that tie Americana to Hollywood. And, coming up with witty Chapter Titles that give clues or insight to the storyline is also quite challenging. I mean, I have wonderful character actors on my personal roster that I have yet to write about simply because I haven't come up with the proper angle for a chapter; folks like the wonderful Henry Travers, Dan Duryea, Warren Oates, Ray Walston, and others.
Who are some of your favorite authors that inspired you to write and why?
As I mentioned before, I've been inspired by David McCullough. Also I'm inspired by Doris Kearns Goodwin, and most recently, Reyna Grande (because of her relentless book-tour effort for her latest work, "The Distance Between Us"). She is my hero, and I'm really proud to now call Reyna my friend. Also, Thelma Reyna has been incredibly supportive of my narrative. Outside the box, I consider Ken Burns a giant in the story-telling business in his way to share family-friendly tales on screen, like your reading chapters in a book. Growing up I was a big fan of Kurt Vonnegut and Dr. Seuss…lol.
To understand my love and strategy involved in the Forgotten Hollywood Book Series realize that two of my favorite books during my formative years were The American Presidents and The Films of Spencer Tracy.
What advice can you give our readers and/or aspiring writers as they move forward with their writing projects?
If I may be so blunt, I'd like to advise my Latino author peers to not be boxed in with just Latino-themes. My grandmother taught me that Latinos (like African Americans, Asians, and Native Americans, etc.) can have a love for a variety of interests which have nothing to do with our heritage. It's amazing to me when I visit a Latino Book Festival, that the first question I get is "Is there a chapter about Latino actors?" The answer to that question is obviously… YES (in my second work). However, we are a very intelligent and curious culture. We can have a love for things beyond the scope of our pedigree. That said, I applaud the work of Latino authors and educators who share engaging stories about the Latino Experience. It's a necessary effort that needs to be made for our next generation of Latino contributors to society.
On a different note, I ask aspiring scribes to follow your dream…every day. Write a couple of pages, a chapter, the Forward, the Introduction, the Preface. When you go to bed each evening, feel you have accomplished something that will put you closer to your goal. There is nothing more exciting than a new-book smell. "No" is a horrible habit to get into. Be willing to accomplish what you set forth. Before you know it, you will have a book that is ready to be published… or self-published!
What impact do you want to make with your writing and your books?
This is a really easy answer. I want to be a West Coast Ken Burns, with stories told in Documentary form. I want to pass along to you that we're doing a fundraiser campaign to raise money to create a FORGOTTEN HOLLYWOOD Documentary Pilot. We are currently in the Development Phase. We have set up an Indiegogo website at  http://www.indiegogo.com/forgottenhollywoodseries/x/1999460.
***A contribution of any amount is cheerfully accepted.
Our project looks at how cinema influenced our fight to change the nation's views regarding people with disabilities, including Polio, Arthritis, and Hearing & Sight issues. My team believes this Documentary, who uses Lionel Barrymore, Franklin D. Roosevelt, and Helen Keller as its subjects, can be extraordinarily beneficial to charitable causes. We have worked tirelessly at the American Film Market and Festival du Cannes to internationally distribute the finished product.
If we are successful, Forgotten Hollywood can become a brand of successful books, a weekly radio show (currently on the Financial News and Talk Network at 15-10 AM; and streamed each Saturday at 3 PST on my website), and a documentary series that could potentially air domestically on PBS, TCM, and/or the History Channel; and internationally on BBC, etc.
What is the next project you are working on and what upcoming events can we expect in the near future?
Obviously, the Documentary Pilot is on the horizon. I'd also like to make my second book, "Son of Forgotten Hollywood Forgotten History" available as an eBook. My first work, "Forgotten Hollywood Forgotten History," is already available on Kindle, Nook, Apple, Sony eReaders. My sister Virginia Vandewouwer is encouraging me to write a third book in the series to make it part of a prestigious box-set. Proposed titles include: "Bride of Forgotten Hollywood Forgotten History," "Road to Forgotten Hollywood Forgotten History," or "Attack of Forgotten Hollywood Forgotten History"… lol. The format will be the same.
In the meantime, I continue to write on my blog at www.forgottenhollywood.com. Everyone is invited to my site. And let me personally thank the Latino Author website for this wonderful opportunity to share my story.
Contact: http://www.forgottenhollywood.com