This week, TheLatinoAuthor.com is excited to feature playwright Michael Mejias. Mr. Mejias currently works for Writers House, a literary agency in New York. His play, Ghetto Babylon, has received fabulous reviews. Michael provides an inside and candid view of what the publishing industry may be looking for in the way of Latino authors. Again, thanks Michael for giving our readers some great insight into the New York publishing arena.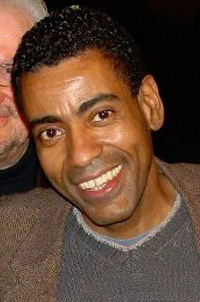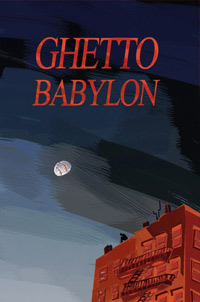 Michael, can you tell us a little bit about yourself; where you grew up, where you currently reside, and what you would like our readers to know about you?
I'm a dullard; seriously, I'm a terrible bore, so, I won't go on about myself. Suffice it to say, I know a little bit about baseball, The Batman, and The Catcher in the Rye. I'm from the Bronx, but now live in Fort Greene, Brooklyn, NYC. Oh, I also write plays.
I understand you work for a literary agency called Writers House in New York. Tell us a little bit about this institution?
This is what's on the website: Writers House was founded in 1973 with a vision for a new kind of literary agency, one that would combine a passion for managing a writer's career with an integrated understanding of how storytelling works. With this two-pronged philosophy, Writers House has played a critical role in developing the careers of hundreds of novelists and non-fiction authors. We believe in offering our clients not only our expertise in negotiating contracts, but in contributing to all phases of the editorial and publishing processes. Our goal is to maximize the value of our clients' work by providing hands-on editorial and marketing advice, as well as leading the way in branding, licensing, and selling film/TV, foreign, audio, dramatic and serial rights.
What is your role at Writers House?
As it stands, I'm the receptionist/ office manager/ Founding Director of the Writers House Intern Program/ and literary scout for Latino and Latin American authors. I also have a couple of clients.
I understand you started out in theatre and also wanted to be a playwright. Is this still your goal or has this changed since you've been with Writers House?
It is a goal and I still write plays; in fact, my latest play, GHETTO BABYLON was produced at 59E59 Theatres by the Dramatic Question Theatre (www.thedqt.org), a small, non-profit playwright's theatre I co-founded in 2009.
What made you get started in the literary field overall? Was there a specific event that moved you in this direction?
When I was a kid, I read The Catcher in the Rye. It kicked my ass it was so wonderful. All this literary stuff I do now is really part of my recovering from reading the Salinger novel.
From your perspective, how tough is the writing business and getting into the literary world? Do you see the same challenges for all writers, or are there more challenges for Latino writers or just "minority" writers in general?
For most, it's pretty tough to be a writer. Then again, I don't know of a business that isn't tough: Law, finance, medicine, engineering, accounting, education, politics – all tough as hell.
This is why I think the writing business is hard to break into: If I am going to bring a novel to the attention of a Writers House agent, I have to love, love, love it (as opposed to just "liking" it). Then, the agent has to love, love, love it too. Finally, an acquiring editor has to love, love, love it enough to make an offer. So, that's at least three people who have to vehemently agree on something that is pretty damn subjective in the first place. Mostly, it's hard to get three people to agree on anything. Don't take my word for it, watch any episode of The Three Stooges.
One challenge that I feel Latino authors encounter generates from an absence of a competitive purchasing base for their titles; that is, we Latinos aren't purchasing books at the same rate as other groups are purchasing books. At the 2013 Book Expo of America (the BEA), it was reported that Mexicans, our largest Latino group in the U.S.A., buys 1.2 books, per person, each year. That's pretty low in comparison to other groups and helps create the perception that we Latinos don't want to spend money on books. You should expect this perception negatively impacts the number of Latino authored titles being published each year. The good news is that this is something we have control over. We simply have to buy more books each year. Let's all commit to that! The more Latinos exercise their purchasing power and buy books, the greater the demand will be to satisfy our demographic, and the more opportunity there will be for Latino writers. The book people I talk to about this, people that work at big publishers, all want to figure out how to sell books to Latinos. So, there is an interest on the industry end, and that's a good thing.
Do you think that being Latino in the literary world helps you or hinders you? Please elaborate.
As a playwright, it's both helped and hurt. It's helped when mainstream theatres are looking for Latino plays, since they are more enthusiastic about my submission. Conversely, when they're not, when they're not very enthusiastic and have already predetermined my play won't resonate with their subscription audience, it's difficult to get serious consideration. So, in my experience, I've been challenged to access the same opportunities with the same regularity as my counterparts. I've responded to these challenges, over the years, by supporting and cultivating relationships with the Latino theatres in New York City including the Nuyorican Poets Café, the Puerto Rican Traveling Theatre, INTAR Hispanic American Theatre, and El Repertorio Espanol. By rallying support around these institutions, I feel I'm helping them grow. If they're growing; hopefully, that means more opportunities for playwrights. And, since I am a playwright, that is good for me. It's mutually beneficial. I also took matters into my own hands and co-founded the Dramatic Question Theatre (DQT), a playwright's theatre dedicated to developing and producing the work of their member-playwrights. The development opportunities my play, GHETTO BABYLON, received in both the DQT's Playwrights/ Directors Lab and the DQT Development Production Series, paved the way to a successful showcase production at 59E59 Theatres this summer. And, as a result of this recent success, there is now some industry interest in my work that didn't exist before.
My experience has been extremely positive at Writers House. Without exception, all of the projects I've spearheaded – whether it was the reading series I curated for ten years or the internship program I founded 13 years ago – have had the agency's full support. They've also supported my playwriting and theatre endeavors. Now, I think that has more to do with Writers House being an amazing place, with amazing people, than me being Latino. That said, I expect my being Latino, with a knowledge of the city's Latino literary circles, did play a part in my new role as the agency's literary scout for Latino and Latin American writers. So, to answer your question, from a publishing standpoint, my being Latino has helped.
In your opinion, what do you see as some of the biggest barriers that Latinos encounter when trying to break into the mainstream publishing world? What is it that Latinos need to do to ensure they get noticed by the big publishing houses?
This is for the aspiring agents, editors, book publicists, etc.: As the Director of the Writers House Intern Program, I interview approximately 1200 candidates a year; unfortunately, despite my efforts, less than 20% of these candidates are Latino. So, the first challenge for us is to (as a community) get more young people interested in pursuing publishing as a career. How do we do that? Well, for one, let's make sure they are staying in school and earning degrees. That simply isn't happening with enough regularity. Secondly, our Latino college grads interested in publishing need to develop more advanced skill-sets. The Latino candidates I interview, as a whole, have not been as prepared for their talk with me, are not as informed of the industry issues and trends, and are not as developed in their analytical thinking and critical writing, as the agency requires. So, there is work to be done in order for us to be competitive. Here are some tips: Read like hell. Read a wide variety of books. Read what's selling. Read industry publications, like Publisher's Weekly, and become conversant in all the issues, trends, and topics in publishing. Write like hell. Have your own book blog. Write for other book blogs, write book reviews for the school newspaper. Start interning at an agency or publishing house, as soon as possible. Go to readings and other literary events. Network. Collect business cards. Follow-up! If you are not in the NYC area, maybe you can do some of this stuff remotely?
This is for writers: Since literary fiction is a hard sell across the board, try working in familiar genres that sell well year-in-and-year-out. Science fiction, romance, and horror are all popular with the readers doing most of the book buying, so are thrillers and historical novels. A Puerto Rican girl can fall in love with a vampire too! I personally know at least ten Dominican girls that would win the Hunger Games. While the agents I know all want wonderfully written books, they also want books they feel they can sell. Since there is a steady demand in the aforementioned categories, logic dictates you're improving your chances of both getting an agent and a book deal by writing in the categories that routinely sell the most. NOTE: I am looking for the Latino/ Latina version of Octavia Butler, Nora Roberts, Neil Gaiman, Walter Mosley, Robert Ludlum, and Stephen King. If this is you, please send along a detailed synopsis and the first three chapters to:
Writers House  21 West 26th Street  NYC 10010  ATTN: Michael Mejias
Do you see the big publishing houses as important today as they were yesterday or do you think self publishing is starting to change the way the literary world does business?
Yes, for me, the big publishing houses remain the gold standard. They still have the most staff support, the most sophisticated production and distribution apparatus, the most experience and expertise with regards to marketing and publicity, and they've a global reach. Oh, yeah, and then there is this little thing called "an advance" that they pay out and that's pretty good too. If this is the experience you're talking about, you'll be hard-pressed to get it via self-publishing (not without spending a king's ransom, anyway). That said, if you are a "do-it-yourself" type and have the resources, savvy, time, and stamina, there are now more self-publishing opportunities than ever before.
When people submit to Writers House, what is it that literary agents look for? What's the "wow" factor that they/you are looking for?
I don't think I know a literary agent with a predetermined criteria for the "Wow!" factor. Actually, in my experience, part of what makes the "Wow!" factor the "Wow!" factor is that it carries with it an inherent element of surprise. In other words, we never know we are being "Wowed!" until we are in the process of being "Wowed!"
And, by the way, we love being "Wowed!" We really, really do.
Who or what inspires you?
Tons of things, but here are a few (in no particular order): The Chrysler Building, Roberto Clemente, Fort Greene, my Mom, Willie Mays, The Catcher in the Rye, Rye Playland, my uncle, The Batman (especially Frank Miller's take on him), August Wilson, Debussy's "Claire de Lune," Thurman Munson, Six Degrees of Separation (the play), Coney Island, Don Mattingly, Angels in America, all the corny top 40 hit songs from the 80s, The Puck Building, my girlfriend, book stores, Diner, diners, Rita Moreno (especially in West Side Story), South by South Bronx, Maria Irene Fornes, the Bethesda Fountain (the sculpture in Central Park), Octavia Butler, Lawrence of Arabia, Paula Vogel, expertise (in pretty much anything).
Tell us about your current project Ghetto Babylon and about any new upcoming projects in the near future?
GHETTO BABYLON is a coming of age, set in the South Bronx, circa 1982, and in it, Charlie Rosa is having the little league summer of his life; finally, his team, the West Farms Warriors, can't lose! And, Charlie, his cousin, Felix, and their best friend, Spec "The Spectacular" Sanchez are living large. Cue the girl, because when your fourteen, there is always a girl. This one's name is Sarafina Santos. She's fine but her (ex) boyfriend, The Bobby, has killed more people than the plague. So, it's dicey. Anyway, she brings Charlie a letter that was delivered to her mailbox by mistake. It's his acceptance letter to the Phillips Exeter Academy. But going to Exeter means not playing the big game. To tell his friends or not tell his friends? To stay or to go? When the anxiety apexes he reaches out to the one guy he secretly feels will understand – The Catcher in the Rye.
Like I've already (and quite immodestly!) mentioned, GHETTO BABYLON was presented by the Dramatic Question Theatre at the 59E59 Theatres. The 16 performance run sold out and the production received some very positive notices. It looks like I'm going to land an agent; hopefully, it will start its long journey back to a major NYC theatre, by landing some regional productions.
HAMLET MACBETH is set in the seventies, on the Lower East Side. Hamlet Perez MacBeth is in Germany, on a Fulbright. He gets word of his Dad's sudden passing and returns home. Hamlet is expecting to assume control of all his Dad's interests in the old neighborhood, only to discover his uncle, Claudius Perez MacBeth, a decorated Vietnam Vet, has married his Mom, Gertrude Perez MacBeth, and taken over all of the family's interests on the Lower East Side. Naturally, this doesn't sit well with Hamlet, who struggles to take action against his sea of trouble. The parallel story, set on those same streets, only, fifteen years earlier, tells the tangled tale of Old Hamlet Perez MacBeth, his brother, Claudius, and the young maiden, Gertrude.
Since in this retelling of the Shakespeare tragedies, Hamlet is in a punk band (Poor Yorick!), I expect there will be some songs too. Admittedly, the play is a mess, but that's part of the fun.
Contact: https://www.facebook.com/michael.mejias.31