This week, TheLatinoAuthor.com is featuring author Sandra Perez Gluschankoff. She was born in Argentina, but moved to the United States at the age of twenty three. Read our interview with Sandra and see what moved her to pursue a career in writing after she was married.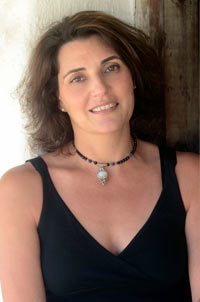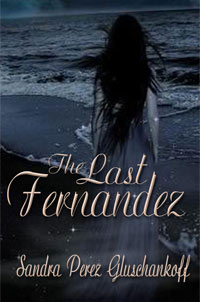 Can you begin by telling us a little bit about yourself; where you grew up, where you currently reside, family upbringing, or anything that you would like our readers to know about you?
I was born in Buenos Aires, Argentina, but grew up in Rosario which is considered the second or third largest city in the country according to who you are talking to. Life in Argentina, when in the city, is pretty cosmopolitan. The city bustles with cultural life, night life, good restaurants, plenty of political discussions, and the most wonderful shoes. Nothing of that Gaucho and Tango lifestyle people associate Argentina with. So, I'm a city girl by definition and never rode a horse until I moved to the United States at the age of twenty three.
My upbringing happened in the midst of a pretty colorful family, and not until I was in grade school I was able to understand that some of the words I used on a regular basis were not Spanish but Romanian, which was the country of origin of my maternal grandparents. Or in the case of my father's family, which were from Israel and Lebanon, the variety of savory foods, their particular body language, and their rich laughter.
A little over two decades ago I was swept of my feet for the second time in my life, but this time it was to be final. I met my husband, while visiting the U.S. during my summer break from the University. That marked my becoming an immigrant carrying bits and pieces from everywhere just like my family did before me.
Your academic background is in psychoanalysis, anthropology, and Judaic studies, yet you have also focused on writing. Was writing something that you wanted to do or did this result only after your other academic studies?
Writing was never something I remotely considered ever. Although I have always been an avid reader from an early age, the writing took me by surprise – organically I would say.
Everything I've ever done or had my interests in had to do with people and their stories. I've always been fascinated about the origins of things not in a scientific manner, but historically. Always an over analytical person, it was easy for me to construct different scenarios based on true stories, and put a twist to them in my head. I guess the fact that for many years after I moved to this country I was at a language disadvantage. This heightened the importance of the written word for me. I read more than ever, in English of course. Every new word and every new phrase I learned was somehow left inscribed in my brain ready to be used as I chose. Call it the machinations of the psyche, but using the language of my newly adopted country became the tool with which I chose to blend all the languages I knew, the things I did, all the stories I ever heard, and all the stories I suddenly felt the urge to tell.
You have written several screenplays, a T.V. Pilot, and now have written a couple of novels. Why did you choose to "tackle" these very different types of writing versus focusing on just one? Of the three, which do you find the most challenging and which do you prefer or are they equal in nature?
When I decided writing was what I intended to pursue, the stories I thought about came to me in images. "A movie," I thought to myself, "It must be a movie." That day I announced to my husband and my then two young boys that I was going to be a screenwriter. Knowing never to contradict a woman on a mission, my three great men, sped out of the house to buy me screenwriting software. It took more than software to write my first screenplay. Screenwriting is a rather structural form of writing and it has its definite dos and don'ts. So after I realized I did not have a clue to what I was doing, I delved into as many books on screenwriting as I could find, and I attended conferences and seminars. The learning process was accompanied by the writing and rewriting of several screenplays.
When I thought I had a solid script I entered a few contests and was rewarded with placing as a finalist on one of them. Yet after the excitement died, I was no different than the many millions that have written a movie and have never gotten further than getting a pat on the back. I wanted more out of my writing. I wanted to share my stories and I wanted to be the real thing.
"Write a book," my dad said to me one day.
"Why not, I have enough chutzpah," I thought. Of that I was sure; therefore, writing a novel became my next writing assignment.
Writing is writing and every project has its audience. Some are meant to be literary and others are written for the screen. The important thing at the end of the day is to tell a story we love.
I saw screenwriting as my introduction into the world of writing and into a playground where words became my buddies. Although I prefer the literary form of novel writing, I would find watching a movie produced out of one of my screenplays as thrilling as holding in my hands my published book.
A writer's life is often made difficult by the publishing and marketing challenges that authors encounter. Can you talk about some of those challenges and give some insight as to how to better tackle these?
In the screenwriting world I've yet to see anything other than a long waiting game or a straight out rejection.
My venturing into publishing went a lot smoother than I had anticipated. I had acquired a thick skin with my previous experience with film writing and so I went into the querying process almost immune (hey! I still have feelings) to rejection. I was fortunate to have my first offer a month into querying, which was followed by a handful of others and also more rejections that I dared to count.
The best way I could describe my emotional state during those six months until I signed the contract I deemed right for my novel, is bipolar. I cried, laughed, felt hopeful some days, and others I felt like the world was nearly over. However, the one thing I never did was give up. Every day I would wake up smiling (okay, it was only inwardly) ready to face the most gruesome emails waiting in my inbox. Yet while ingesting cup of coffee after cup of coffee, I never ceased to send out more and more queries because there was one thing I was going to become and that was a published author.
Becoming published is not the end of the process though. I find that marketing is even more difficult. Even though "The Last Fernandez is traditionally published," it is not under one of the big six publishers that invest time and money in creating the buzz for their upcoming titles. Coming from a small press, the weight of the marketing process falls on the writer. Therefore, the romanticism of becoming a published author is short-lived by the need of becoming a savvy business expert and marketer overnight. Well… it's not happening, but I have learned to use the social media, connect with groups that might be interested in the subjects I write about, but as most authors rely on the word of mouth. Works like a charm!
If you could give one single advice to emerging writers, what would that be?
Besides having a strong manuscript edited as best as possible, a strong query letter is capital to attract the much needed attention any writer wants for his work. It's the only opportunity authors have to make a first and only long lasting good impression. Be assertive, but not arrogant. Show expertise on the field chosen to write about and show originality. Some writers freeze when they have to sum up their baby in a couple of paragraphs and create enough tension to cause somebody to drool and want to read at least the first three chapters of their manuscript.
I have to admit it's challenging, but if others have done it then it can be done. It is not that the wheel has to be invented from scratch. Read as many blurbs of books as possible related to the genre you are writing about and gradually let your own story simmer within the structure of a blurb.
After working so hard for so many months, talking to the empty air and smiling at the wall while in the presence of your mother in law, dodging everybody's comments about the nonexistent money making opportunities in writing, a query letter should be a walk in the park.
In your book "The Last Fernandez" you write a historical novel using two different centuries of time; The Spanish Inquisition and Argentina in the late 1970s. How difficult was it to have characters in different time settings and yet bring the story to a close?
I must say, it was not difficult at all. I had the two time periods vividly in my head while writing the novel. The "write what you know" is not a myth, but a must when you embark on a writing project. History has always been a passion of mine and there are some historical periods I researched throughout time more than others. Being Jewish with a Spanish last name of Perez, I took the time to research the possible origins of my family and it all pointed to Spain and the expulsion of Jews during the Spanish Inquisition at the end of the 15th century.
In the case of the Dirty War of the mid 1970s in Argentina, it was the time I grew up in. My knowledge of it is personal as well as research. My mother's cousins were persecuted by the military and were exiled in France for many years. For weeks, my mother did not send us to school when the military coup first struck, and when years later I met my husband here in the U.S. (Argentinean born and raised), I learned of his own reasons for leaving Argentina during the military years while in his early twenties.
The two time periods, although different in principle (one religious and one political) were so far away in time yet they shared the same essence. They were about persecution and extinction for the sake of intellectual submission, financial power, and the annihilation of every human being's innate right to freedom.
I'm certain that the parallelism I created in "The Last Fernandez" can be created with other cultures that suffered at the hands of two most ruthless choices: submission or death.
Looking at the states of affairs in the world today, could we honestly say we have learned from the past?
How much research did you have to do for this particular novel?
Besides my already acquired knowledge of the two time periods, I doubled checked every fact I knew plus I had to make everything historically accurate. I have to say I loved the learning process. From the food eaten in 15th century Spain in the particular region I wrote about, to the fashion of the time, medical practices, distances covered by horseback during a day, to a little Indian book about sexual practices written prior to the Kamasutra… I enjoyed it all!
Can you tell us a little about your screenplays and how some of those stories were developed?
Everything I write about whether it is a book, an article, or a screenplay shows my many sides in different scenarios by the way I take in my surroundings and assimilate the traits of people I meet or just merely observe. My screenplays are eclectic in genres and point to different audiences. Among them I wrote a script that deals with injustice against migrant farm workers. Another one is an animation story about endangered species. I love writing about people within relationships and to see them grow communicate and learn. I also love writing about love. Love story stripped off the fairytale and, that oh so painful what if… a first love.
What is a typical day for you and how do you juggle the writing aspect into that schedule?
I don't have two days alike. I'm not one for routine and besides being a writer I'm a mom, wife, friend, cook, laundress and yes, I clean toilet bowls too. I do try writing everyday and I try hard to work out everyday also, but that does not necessarily happen. However, I'm constantly writing and creating in my head, reason being for missing the freeway exits I'm supposed to get off at, never remembering where I park my car, or for pointing left when I mean right. But one thing is for sure, when I sit at my computer I know exactly where I'm headed.
What impact do you want to make with your writing? At the end of the day, what do you want to be best remembered for as an author?
I see the history of the world as the sum of stories told, stories lived, and stories created. In our very own way we are all authors and when we communicate either through a written form, verbal, or visual, we intend for our views to make an impact and contribute to the ever developing process that is humanity and its history.
For that matter, I don't want to write stories to be forgotten as soon as the reader puts the book down. I've been handed down a legacy from my parents, grandparents, and by every person and every experience that have crossed my path, and I feel I have the responsibility to share it with whoever is willing to listen.
In the case of "The Last Fernandez" I had readers asking me if what I wrote about the military process in Argentina was true, or if the Spanish Inquisition had actually been so vicious. When I confirm their doubts with some background and historical references, I know I've done something to lead someone into the direction of research and history, if only by fictional characters.
Can you tell us about any upcoming books or projects forthcoming in the near future?
I am deeply into my second novel "The Secret Myrtle," which I hope to finish in the next few months and hopefully have it picked up before the year's end. The story travels from present day to the time of WWII in Europe and is set in South America, the US, and Europe. It deals with three generations of women who become the result of an era of silence, fear and deceit. It's an emotionally paced story about love, war, sacrifice, and new beginnings.
Also I'm working on a very exciting film project titled "A King for a Pawn" (an action, sci-fi thriller), which I'm currently co-writing and producing with a dear friend of mine.
Contact: http://www.palabrasandstories.com