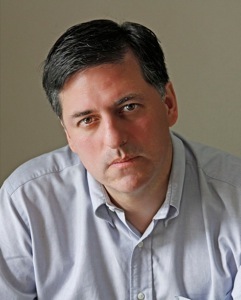 Sergio Troncoso was born in El Paso, Texas and now lives in New York City. After graduating from Harvard College, he was a Fulbright Scholar to Mexico and studied international relations and philosophy at Yale University. Troncoso was inducted into the Hispanic Scholarship Fund's Alumni Hall of Fame and the Texas Institute of Letters. He is a resident faculty member of the Yale Writers' Conference.
Troncoso is the author of five books. He co-edited Our Lost Border: Essays on Life amid the Narco-Violence (2013), a collection of essays on how the bi-national, bi-cultural life along the U.S.-Mexico border has been disrupted by recent drug violence. Publishers Weekly said, "These essayists posit that widespread hope for the region begins with the involvement of the individual: 'This should be our struggle.'"
From This Wicked Patch of Dust (2011) is a novel about the Martinez family, who begins life in a shantytown on the U.S.-Mexico border, and struggles to stay together despite cultural clashes, different religions, and contemporary politics after 9/11. In a starred review, Kirkus Reviews called it "an engaging literary achievement," and chose it as one of the Best Books of 2012. The novel also won the Southwest Book Award from the Border Regional Library Association.
Crossing Borders: Personal Essays (2011) is a collection of essays about how Troncoso made the leap from growing up poor along the border to the Ivy League, his wife's battle against breast cancer, his struggles as a writer in New York and Texas, fatherhood, and interfaith marriage. The El Paso Times said, "These very personal essays cross several borders: cultural, historical, and self-imposed…. We owe it to ourselves to read, savor and read them again." The book won the Bronze Award for Essays from ForeWord Review.
Troncoso's book of short stories The Last Tortilla and Other Stories (1999) won the Premio Aztlan Literary Prize for the best book by a new Mexican-American writer, and the Southwest Book Award. His novel, The Nature of Truth (2003) is a story about a Yale research student who discovers that his boss, a renowned professor, hides a Nazi past.
Contact:  http://www.sergiotroncoso.com