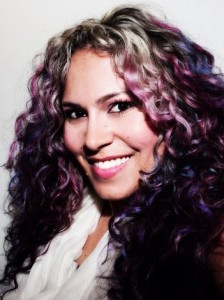 April Chloe Terrazas is a native Texan, receiving her Bachelor's in Science from The University of Texas at Austin. She is also an active member of the Texas Exes Alumni Association, especially in the Hispanic Alumni Committee, assisting in fundraising efforts for incoming Hispanic student scholarships. She is the founder and CEO of Crazy Brainz Publishing as well as the Author/Illustrator of the Super Smart Science Series. Since it's release in late 2012, the Super Smart Science Series has grown to 9 books as of July 2014, with another 5 coming before January 2015. The Series is available for purchase at www.AprilChloeTerrazasAmazon.com, BN.com and through her site at www.SuperSmartScienceSeries.com.
April spent the spring semester of 2014 touring elementary schools across the US, stopping in New York, Massachusetts, Colorado, Florida, California, and Texas. She inspires elementary aged students to explore the sciences. When beginning all of her school presentations she assures the bright-eyed students that they will not only become fans of science by the end of the presentation, but that they also have the power to become a Scientist should they choose. The series is designed to empower young minds and create confidence which builds a strong foundation for future education, no matter the field. April is currently accepting requests for school visits for the Fall 2014 semester in the United States.
April is also the owner (and operator) of a Tutoring Service in Austin, Texas. It was through her interactions with students for 10+ years that she perfected the formula for learning and empowerment.
April lives and writes in downtown Austin, Texas.
www.SuperSmartScienceSeries.com