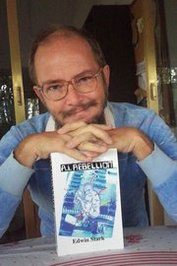 Born in Caracas, Venezuela, Edwin Stark lives in the outskirts of a tropical rainforest located at 10º16'56" N 66º22'37" W. There's barely some electricity (when it works at all), no running water and the area is so backward that even TV signals refuse to reach it, which means he has little else to do than write to keep his sanity. Given the current political situation of his home country, he verily doubts that he'll find his way out from that place.
Originally a native Spanish speaker, he attempted for many years to break ground in the local market with no success. It was so that he decided to set aims to a bigger international market and he begun to write in English, effectively dumping his first language in the process. He's the author of "A.I. Rebellion", a rather preachy cyberpunk novel, "The Clayton Chronicles", and has put together many of his short stories in "Cuentos", which in spite of its Spanish title, all the tales included within are written in English. He has also written "Eco Station One", a bizarrely fun novel about a bilker and his pal, a genetically enhanced gorilla, who is quite chatty with his custom built sign language. These last two books have garnered several 4 and 5-star reviews.
Acknowledging the growth of the Spanish speaking/reading market, he has also released "Estacion Ecologica Uno" (the Spanish version of "Eco Station One") and "Calle Trece", the Magic Reality tales he wrote while he was still a teenager.
Contact:    http://edwinstark.wordpress.com