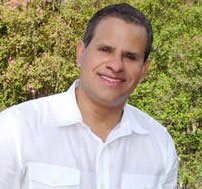 Ruben Soto is an author and writer who lives in San Antonio, Texas. He founded writers groups in San Antonio, Texas and Miami, Florida. He is the author of three books: "Fiesta for the Hispanic Soul", "La Princesa Maria", and "Univision, un hogar lejos del hogar".
He has also been published in the Miami Herald, El Nuevo Herald, Diario Las Americas, San Antonio Express News, Hispanic magazine. He has contributed articles for Examiner.com, Alamo City Times, CNN iReport, and others.
He keeps himself busy by updating his blogs and one "Miami TV:Chismes y Noticias" has over 500,000 views worldwide. He enjoys helping other writers with publishing their books. He also is an amateur photographer and works out several times during the week.
Contact:    http://www.amazon.com/Ruben-Soto/e/B004RDXPNA