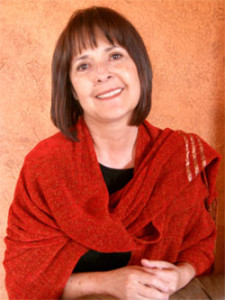 Emerita Romero-Anderson March 5, 1948 – April 3, 2012
Emerita Romero-Anderson was a sixth generation Hispanic born and raised in San Luis, the oldest continuous European settlement in Colorado. Her mother's Spanish colonial ancestors were some of the first settlers in Colorado. Her mother's great-grandfather built what is considered the oldest store in the state and is still being run by the family. Emerita's father's people were the mestizo (Indian and Spanish mix) and came to Colorado from New Mexico.
Emerita received a B. A. in education from Adams State College in the San Luis Valley and an M.A. in bilingual/multicultural education from the University of Northern Colorado. Her work experiences included gifted and talented as a special program consultant, and a regular and bilingual education public school teacher in Colorado and Guam, USA. Emerita also taught college level classes through the continuing education departments of four different colleges and universities.
After twenty-seven years of teaching, Emerita retired in 1998 after returning from Guam to research and write for children. Her first book, Grandpa's Tarima, was published in 2001 by The Wright Group/McGraw-Hill and was one of twelve selected for the Sunshine Shared Reading Program. It is still being published and used today. Her second book, Jose Dario Gallegos: Merchant of the Santa Fe Trail, was published by Filter Press and is in a series of biographies about Colorado notables for children. Emerita's third book, a middle grade historical novel, Milagro of the Spanish Bean Pot, was published in April 2011 by Texas Tech University Press. This book has received seven awards to date, the most notable being Outstanding Juvenile Book awarded by the National Western Heritage Museum.
Emerita belonged to the Society of Children's Writers and Illustrators, Women Writing the West, The Authors Guild and a SCBWI critique group that met once a month. Her author web site can be found through the Authors Guild at www.emeritaromeroanderson.com/ and lists her past book signing events, experiences in doing school visits, presentations and writer's workshops.
Her community involvement included being on the Costilla County Economic Development Board and the San Luis Planning and Zoning Committee. Emerita was also part of the steering committee that wrote the feasibility study and one of the original board members instrumental in the successful acquisition of funds for the Sangre de Cristo National Heritage Area. She was one of the four original board members who went to Washington, D.C., presented the plan to Congress and with the backing of then Senator Ken Salazar, the plan was funded.
Emerita's passion for writing and telling her people's stories was sparked by her strong desire to get more books in circulation about Latinos, by Latinos into the hands of children. She worked tirelessly to accomplish this goal. Her legacy will be found in the compassionate stories she told in her books about her heritage and about her culture. She may have left us, but her message will live for years to come through her work.
Contact :  http://www.emeritaromeroanderson.com