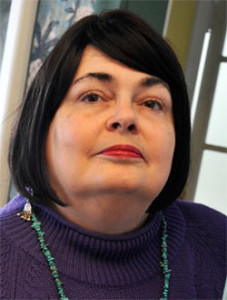 Linda Rodriguez's Every Last Secret (St. Martin's Press/Minotaur Books) won the Malice Domestic Best First Traditional Mystery Novel Competition, was selected by Las Comadres National Book Club, and was a Barnes & Noble mystery pick. Her second novel, Every Broken Trust, will be published May 7, 2013. Luis Alberto Urrea, author of The Hummingbird's Daughter, says of it, "Linda Rodriguez is a richly talented writer. Her aim is true, and she strikes deep. This new work will reward you as it weaves its generous spell. Good stuff. Get it now."
For her books of poetry, Skin Hunger (Scapegoat Press) and Heart's Migration (Tia Chucha Press), Rodriguez received numerous awards, including Midwest Voices & Visions Award, Elvira Cordero Cisneros Award, Thorpe Menn Award, KCArtsFund Inspiration Award, and Ragdale and Macondo fellowships. She is a founding board member of Latino Writers Collective and The Writers Place and a member of Wordcraft Circle of Native American Writers and Storytellers, Kansas City Cherokee Community, International Thriller Writers, and Sisters in Crime, Border Crimes chapter of which she is president-elect.
She was formerly director of the University of Missouri-Kansas City Women's Center and was a co-convener of the Women & Environment Caucus at the United Nations international conference, Women 2000: Beijing Plus Five. She has also published a cookbook, The "I Don't Know How to Cook" Book: Mexican (Adams Media, 2008). She is currently working on a book of poetry based on teachings from her Cherokee grandmother and a novel about Kansas City's long-established Latino community. She lives with her husband and rescued dog and cat in Kansas City, MO.
Contact:  http://lindarodriguezwrites.blogspot.com