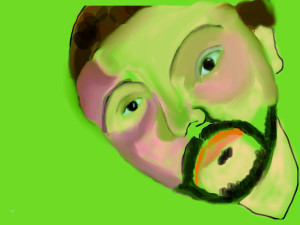 About the autor:
Ricardo Félix Rodríguez was born 1975 in Caborca, Sonora, Mexico. He studied psychology and has a Master's degree in social science with emphasis in health. He has written theatre, short stories, essays and film reviews for digital magazines. He has directed theatre and digital video. Published a collection of short stories for a local editorial and the story "As maçãs de Asgard" for an anthology in Sao Paulo, Brasil. He likes to write in different languages such as Spanish, English, French and Italian.
Book description:
Charles Mingus is an eccentric analyst using unorthodox methods in the world of therapy. From a universal nature, the analyst is overwhelmed by surreal characters that fill his mind with experiences, obsessions and diseases testing his skills as a psychotherapist. A family is monitored twenty four hours a day by a team of professionals led by Mingus. In their eagerness to fill the empty spaces left by the history, the doctor describes how Emiliano Zapata 's death may have been a travesty to allow the hero to keep fighting from another trench. Prince Hamlet leaves the stage to try to balance his emotions. The Dane is finding answers in his head that help him gauge the scope of ambition for power in men. A northern Mexico drug dealer goes to the doctor's services from an exorcism that changes his life. Two Angolan friends are interacting with a set of historical and political figures of his country, talking about how the exercise of power in Angola and Africa.
A group of chess pieces argue about the nature of the game and the social order in which they operate. Some pawns try to break the logic with which they interact. An actor who plays Jesus gets caught in the character taking the identity of the Messiah. Dr. Mingus takes a journey through purgatory accompanied by Woody Allen. Together they interview a number of historical figures from film, literature and politics. A young actor is trying to build the character of Oedipus as real as possible.
Mingus opens a therapy group where no one seems to be what it appears. A model, a lawyer and a gigolo are patients that make up the cluster. The doctor involved in the case of a child who has the distinction of spitting coins. Nobody knows exactly why, but everyone wants a little cash. Charles writes a book called: What have you done for you on this day? Where describes some of the resources used in therapeutic interventions. One of his patients is not very happy to appear in the publication. Finally, the therapist shows his artistic side, to direct the film about a guru on pilgrimage in the Sonoran Desert. The actors are far from fit the personality of the characters, so the story goes merging fiction and reality.
Contact Information: Ricardo Félix Rodríguez