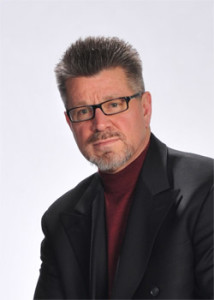 Is a successful businessman turned author of "From the Barrio to the Board Room and Mi Barrio," who is using his books with youth across America to replace violence, delinquency, gangs and drugs with education, pride, accomplishment, and self esteem.
Robert has dedicated his life to sharing his story with millions of others so that they, too, can help break the vicious cycle of poverty through hard work, determination and education. His books and the accompanying curriculum, are forming our "leaders of tomorrow" by helping them to find their identity, establish core values, set goals for themselves, prioritize education, and strive to reach their full potential.
Renteria has been the keynote speaker at the Hispanic Heritage Reception for Illinois Secretary of State Jesse White, where he was recognized for his achievements as a civic leader and Latino author. He has also presented at the Illinois Association of School Social Workers, McDonald's Hamburger University, the Chicago Principals and Administrators Association annual conference, the Hispanic National Bar Association in Chicago, the Illinois Legislative Latino Caucus Foundation, the 40th Annual Rainbow Push Coalition Conference representing Veterans Administration, and the Chicago School of Professional Psychology.
He has been profiled in major media, including USA Today, The Wall Street Journal, Investor's Business Daily, The Chicago Sun Times, WGN, Univision, and Chicago Public Radio. Robert has worked with political figures (at the local, state and national level) as a "Latino" voice. He has been supported by business owners, corporations, University Professors, and middle and high school teachers and principals who share his universal message that everyone has the right to live the American Dream!
I am proud to say that his popular books From the Barrio to the Board Room & Mi Barrio are being taught in schools to students all around America and in many communities all around the world.
I am honored to introduce the 2010 Chicago Latino Professional of the Year, the recipient of the 2011 Central Asia Institute International Outstanding Humanitarian Award, and the 2012 National and International best graphic novel throughout Latin America, Spain and the United States of America. Ladies and Gentlemen, I bring you our very own Latino Author, Robert J. Renteria.
Contact:  www.fromthebarrio.com