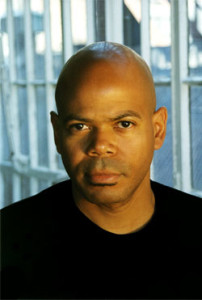 Charles Rice-González, born in Puerto Rico and reared in the Bronx, is a writer, long-time community and LGBT activist and Executive Director of BAAD! The Bronx Academy of Arts and Dance. He received a B.A. in Communications from Adelphi University and an M.F.A. in Creative Writing from Goddard College. His debut novel, Chulito, was released in October 2011, and he co-edited, with Charlie Vázquez, From Macho to Mariposa: New Gay Latino Fiction released in August 2011.
His work's been published in The Pitkin Review, Los Otros Cuerpos, Best Gay Stories 2008, The Best of PANIC!: En Vivo from the East Village, Love, Christopher Street, Who's Yer Daddy and Ambientes: New Queer Latino Writing edited by Lázaro Limas and Felice Picano. He's working on his second novel, Hunts Point, and his award-winning play I Just Love Andy Gibb will be published in Blacktino Queer Performance: A Critical Anthology co-edited by E. Patrick Johnson and Ramón H. Rivera-Servera.
He's attended Bread Loaf Writers' Conference, VONA: Voices of Our Nation, Lambda Literary Writers' Retreat and Sandra Cisnero's Macondo Writing Workshop, and has done residencies at the Woodstock Byrdcliffe Guild and the Virginia Center for Creative Arts. He received an Audre Lorde scholarship from the ZAMI Foundation, a P.R.I.D.E. (Puerto Rican Initiative to Develop Empowerment) Award and a Best Play Award from Pregones Theater's Asuncion Playwriting Project.
Contact : http://www.charlesricegonzalez.com