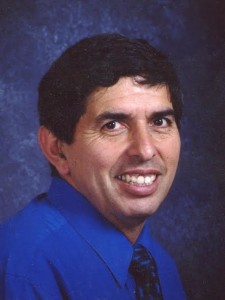 Abraham Ruelas has a B.A. from Patten University (1976, Biblical Studies), a B.A. from CSU East Bay (1980, Mass Communication), and a Ph.D. from Stanford University (1985, Communication Research). Ruelas is Dean of Campus Programs and Psychology Department Chair at Patten University and at the 2015 Commencement on May 9th, he received a 45 year service award in recognition of his various positions within the university.
An ordained Pentecostal minister with the Iglesia de Dios, Ruelas was a clergy honoree at the City of Oakland Mayor Ron Dellum's Peace Conference in 2010. That year he also received a City of Oakland Proclamation recognizing his community engagement. The end of 2014 brought to a close his 22 years on the board of directors (the last 11 as chair) of the Latino Commission on Alcohol and Drug Abuse of Alameda County (LCADAC). At a crucial time of financial struggle for LCADAC, Ruelas led the efforts that resulted in the merger of the agency with La Family Counseling Service. The merger ensured that essential services provided to the Latino community would continue. Most recently (2014), he was presented the Oakland District 4 "Local Hero Award" by council member Libby Schaaf (now the city's mayor). Both Abraham and his wife Patricia are very involved in the community and some of their efforts are captured in an article he recently wrote for Zocalo Public Square, "A Neighborhood Watch Captain Explains How He Keeps His Oakland Neighborhood 'Suburban Quiet' " (April 29, 2015) http://www.zocalopublicsquare.org/2015/04/29/a-block-captain-explains-how-he-keeps-his-oakland-neighborhood-suburban-quiet/ideas/nexus/.
Ruelas' first effort writing about women in Christianity was a published article, "A Sociological Perspective on Women, Ordination and Church Polity: Empowerment or Gender Apartheid" (Crucible, Volume 1, Number 2, October 2008). Since that time, in addition to presenting conference papers and writing article on women in leadership within Christianity, he has authored two books, "Women and the Landscape of American Higher Education: Wesleyan Holiness and Pentecostal Founders," (Wipf and Stock, 2010), and "No Room for Doubt: The Life and Ministry of Bebe Patten," (William Seymour Press, 2012) and co-authored with Kristen Welch a third book, "The Role of Female Seminaries on the Road to Social Justice for Women," (Wipf and Stock, 2015). Ruelas is currently authoring biographical entries on significant women of faith for the forthcoming Encyclopedia of Christianity in the United States.
Contact Info: Abraham Ruelas