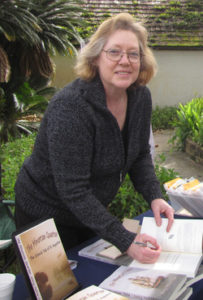 Nancy Pellicer Dyer is of Minorcan descent (Hispanic roots). She can trace her roots threw the oldest Spanish families of St. Augustine, Florida. Nancyis a world traveler and presently lives near Richmond, VA with her husband. She lived in the San Francisco Bay Area for eighteen years, employed as a Customer Service Manager and Field Engineer for Kodak, Xerox and Sun Microsystems. She has lived and traveled extensively in the Mediterranean while working at the North Atlantic Treaty Organization (NATO). She proudly served eight years in the U.S. Navy and worked for the Secretary of Defense. She attended the University of California with studies in Multimedia.
Nancy's novel, The Minorcan Yoke and The Minorcan Quarter keep her engaged in sales, promotions and lectures. She is presently working on her third novel about a little known Kentucky tale from the Civil War. She has plans on writing more about the history of St. Augustine.
Nancy's published works include: The Minorcan Yoke, Global Authors Publications, Aug 2011; The Minorcan Quarter, Global Authors Publications, Aug 2014; Outranking and Outstanding, Brentwood Press, Vol. 7, No. 6, pg 6A (award winning article);  The Summer I Camped Like a Hippie, CampTrip.com, Nov 4, 2010;  Saving the family stories of our genealogy, Jan 22, 2012, thiscommonreader.com; Meet a Hanover Tomato Farmer, Hanover Lifestyles Magazine, July/August 2012.
 Nancy's novels can be found at your favorite bookstore or at Nancy's website www.nancypellicerdyer.com