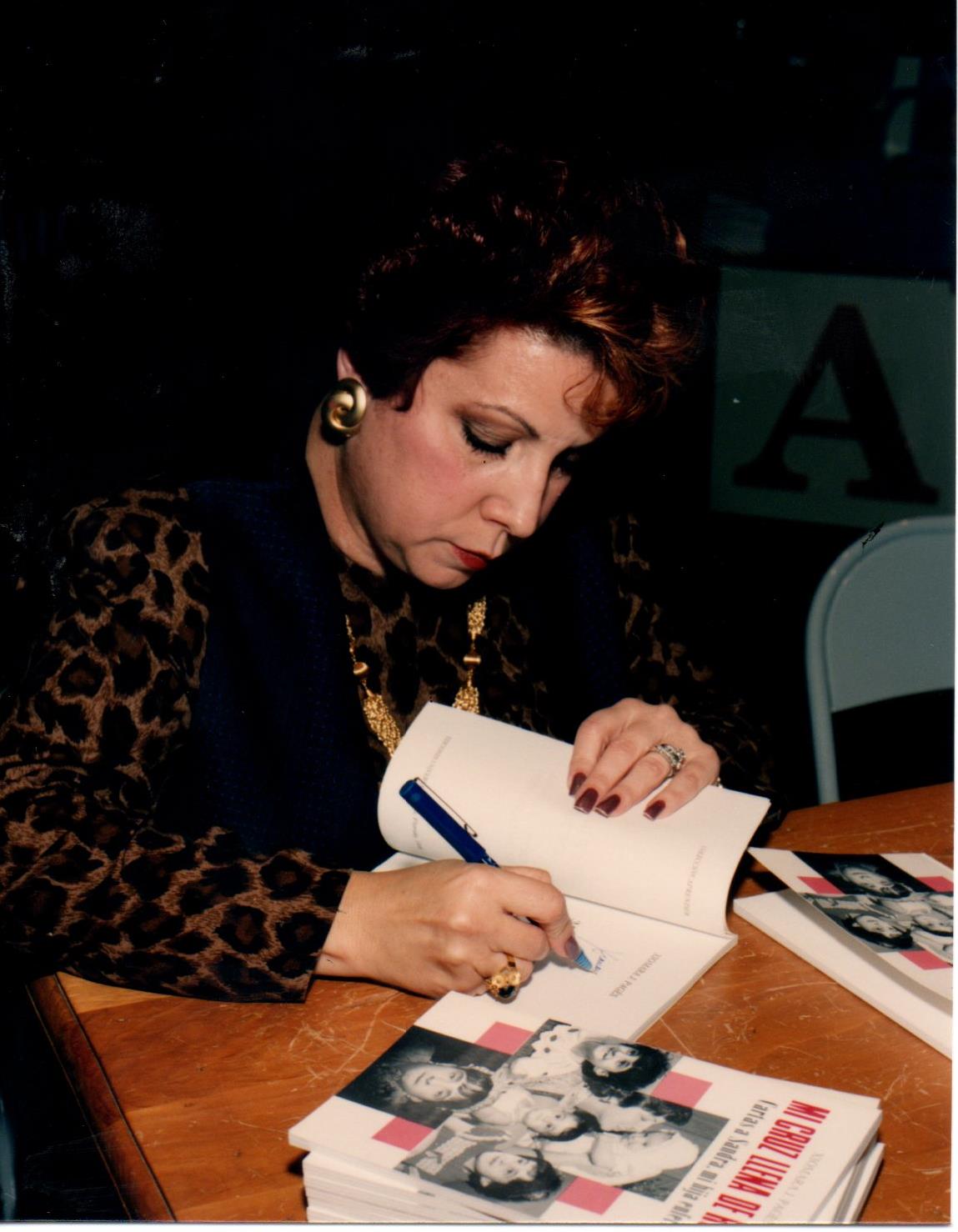 Xiomara J. Pages has given conferences, workshops, seminars to  universities, churches,  schools, and to a variety of community organizations, including  parents and teachers of handicapped children and adults,  abused children, elderly, and women.  She has volunteered and contributed to many charitable, fundraising  activities. She has been the invited speaker to several groups.  Xiomara has  been invited and has been part of  programs,  in radio/ TV  and  newspaper/magazines,   and has lectured not only in USA, but  in European and  Latin American countries as well . She has visited  Central America (Costa Rica, 1999,  2000, 2001; and Panama: 2001);  and in South America (Venezuela, 1996;  Chile, 2000, 2001 and Viña del Mar, Chile, 2003);   Peru: 2000, 2001 , including  Arequipa, 2001);  Puerto Rico, 2003 .  She has also been invited to London, England;  Madrid, Spain; Paris, France.
She has received correspondence and electronic mail from all over the world, specially from Latin America and her native country: Cuba, including  correspondence  from  Pope: John Paul II , Mother Teresa of Calcutta, Presidents Ronald Reagan,  George Bush,  Bill Clinton (who gave her the Motivator of 21th Century award,  Governor Jeb Bush, Congressmen: Lincoln Diaz-Balart, Ileana Ros-Lehtinen,  Javier Souto,  and many  other  important figures and celebrities.  She receives innumerable calls and letters (some  mailed to the columns she writes in community newspapers and magazines  or by emails) and she answers with advice and referral to the proper  sources of assistance.
She has assisted several doctors and parents all over the United States and the world, including Argentina, Chile, Cuba, Mexico, Panama, Peru, Spain, and Venezuela   on  the diagnosis of RETT syndrome, disease that her daughter Sandra suffers.   Her first book, "Mi Cruz Llena de Rosas: Cartas a Sandra Mi Hija Enferma" (My Cross Full of Roses) has been helpful as one of the resources of the International RETT Syndrome Foundation for Spanish-speaking parents, teachers, doctors and medical staff and therapists, not only in United States, but in Spain and Latin America.
CAREER OBJECTIVE: To contribute to my community and the world as a leader, a woman, to help promote arts and culture, and as a parent of a sick daughter with RETT Syndrome; a mother in all aspects, a professional and a career woman in defense of the most needed ones: children, youth, handicapped, old people and abused women and human beings in general. And to motivate others in living to the fullest in freedom.
EDUCATION: University of Miami:  Psychology,  Journalism, Public Speaking, Elocution, Languages, Photography.
PUBLICATIONS: Solo Author:   "Mi Cruz Llena de Rosas" Cartas a Sandra Mi Hija Enferma (My Cross Full of Roses: Letters to Sandra My Sick Child), Spanish resource for the International  RETT Syndrome Foundation. Una Pizca de Sal  (A Dash of Salt)  (Vol. I & II). De Mi… Para Ti: Gotitas de Fe  (From Me to You: Little Drops of Faith) Working on 5th and 6th books: "La Tercera Edad: Aves que Emigran" , poems and others. Contributor to Periodicals and Magazines, and contributor to the books of the RETT Syndrome Association:   Share the Journey, The Parent Idea Book, and Bridges.  Contributor to "Chicken Soup for the Latino Soul."
SKILLS: Poet, Writer, Journalist.  Fluent in English, Spanish, some French/Italian. Effective Platform speaker. Public relation skills. Media (TV, Radio, Newspapers)  contributor.  Fund-raising activities. Charity, community works.
INTERESTS: Reading. Writing. Public Speaking. Media Presentations. Professional Modeling, Fashions, Cosmetology. Painting (oil, pastel). Embroidery. Aromatherapy, Music: Dancing, Singing, Opera, Ballet, Concerts, Broadway Plays. Films, Photography, etc. .
COMMUNITY ACTIVITIES: Several memberships in organizations and committees to help families in general, especially families with disabled/handicapped children: and literary/artistic  organizations. Her community activities are  cultural awareness, fundraising, public relations, conferences and retreats, helping always needed individuals with tragedies, sickness, and any crisis, and to promote Art and Culture. Also works with other organizations in assisting the respect for freedom and liberty, and human rights (including those of women) all over the world.
AWARDS: • Exceptional Mother, United Women/Diario de la Mujer, Women &  Power, Miami, 1996. • Who's Who, International, 1997. • Nominated to the Spirit of Excellence, Miami Herald, 1997. • Nominated to Phoenix Award-American Association of University Women. March, 1998. • Nominated to "In the Company of Women" Metro Dade, Miami, Florida, 1998. • Who's Who in America, 1999. • Floridana Woman of 1999, by the Cuban Women's Club. • Lexington Who's Who (New York), year 2000. • Woman of the Year, 2000 & 2003, by American Biographical Institute. • Most Dynamic Woman 2000 by the American Cancer Society. • El Leon de Oro, 2000, by Club de Leones, Managua-Miami-Nicaraguan Lions'Club  (Golden Lion)   • Presidential Seal of Honor for Exemplary Achievements in the Field of Motivational  Speaking awarded by the American Biographical Institute, USA, 2000 • Outstanding Speaker of the 21st Century, by the International Biographical Institute, Cambridge, London. • Galardón Especial ,  Paseo de las Luminarias por sus éxitos editoriales, Galerías Plaza,  México.
LITERARY AWARDS: • Mención en Concurso de Poemas (Ediciones Pegaso, Argentina) (Poem Contest) July, 2001 • Concurso Cartas y Poesías de Amor . Special Mention. (Club Cultural de Miami  ATENEA) (Love poems and letters Contest) November, 2001 • Concurso Poemas y Cuentos para Niños y Jóvenes 3rd Prize.(Club Cultural de Miami ATENEA)   (poems and stories for children and youth) May, 2002. • Palavraieros Contest in Brazil, 2003.
Xiomara J Pages  continues  her  community services at present   and is a cultural promoter  in the city of Miami, Florida.   She can be reached  and  welcomes  your correspondence:
Xiomara J. Pages
Freelance Writer/Journalist  & Motivational Speaker
P.O.Box 83-1687 Miami, Florida 33283-1687
USA Tel. (305) 283-4979 www.xiomarapages.com http://xiomaraopina.blogspot.com/ and Facebook  (Xiomara J. Pages) Emails:   PortaCu@aol.com  Sonrosas@aol.com  Xiomiboop@aol.com