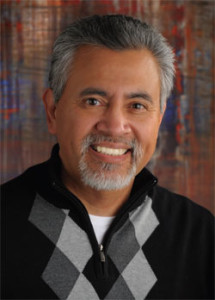 Michael is a former attorney-turned-author. Born in the Chihuahuan desert of northern Mexico, Michael's parents promptly packed him up like precious cargo along with his siblings and moved to El Norte. He remained and established roots in the Pacific Northwest, graduating from Kennewick High School and receiving his BA from Gonzaga University and his JD from Willamette University.
In 1977, Michael did a brief stint with the U.S. Marine Corps. Later, as an attorney, he has served as a prosecutor, parole board member, and assistant attorney general for the State of Oregon. He now earns a living working as a legal assistant in a Salem law firm and as an author of fiction.
Michael's debut novel, The Guadalupe Saints, was released on April 28, 2011. His novella, Seeking Tierra Santa, Summer Terror in Texas, was released on May 14, 2011. He has also been published in The Gold Man Review, Label Me Latina/o, The Acentos Review, Boxfire Press, Red Ochre Press, and twice in AirplaneReading. Michael is currently polishing his fourth novel for publication. He has been published in seven different legal periodicals.
Contact:    www.michaelmpacheco.com