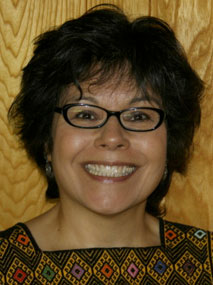 María Ochoa is a writer whose books include Russell City: Images of America; Shout Out: Women of Color Respond to Violence; Creative Collectives, and Enunciating Our Terms. She is author, as well, of numerous articles and essays. Dr. Ochoa's current projects include a graphic history about the San Patricios and a memoir entitled Adventures of a Brown Biscuit.
The Hayward Area Historical Society presented her with the 2010 John Sandoval Award for "outstanding research and documentation of local history; the California State Assembly honored her as a Woman of the Year in 1999. Other awards include an artist grant from the Creative Work Fund, two Ford Foundation research fellowships, a National Women's Studies Association dissertation prize, and a residency with the UC Humanities Research Institute.
Dr. Ochoa teaches at San José State University in the Department of Interdisciplinary Social Science.
Contact : http://www.mariaochoa.com