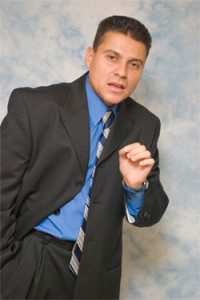 Gerson Martinez is considered a pulsating and rising young Latino speaker in the United States. He has amazed audiences and individuals through the power of his life perspective and the energy of his presentations. He is a respected public speaker and rising star in the Latino community. Gerson inspires his audiences to grow personally, professionally and socially. He also inspires and encourages audiences to give more of themselves and to be a part of a solution in their own communities.
Gerson is and Author, "Becoming Mr. Martinez: A Modern Immigrant Journey", Inspirational Speaker and a Spoken Word Artist. His poetry has been highlighted in places such as: Euphoria Café in Newark, Princeton  University, Rutgers University Law, and most recently on the New Jersey  Department of Education's "Brown v. Board: 50 Year Celebration" compact disc. Gerson is extremely active in the state of New Jersey by serving on several boards and committees. He was appointed to the New Jersey Martin Luther King Jr. Commemorative Commission in 2006. In 2005, he was responsible for the first ever New Jersey Latino Bike and Bus Tour, highlighting the Latino Culture throughout the state of New Jersey. In addition, he served on the Governor's Hispanics in Administration Council from 2001-2004. Being a man of action versus words, Gerson created the C.L.E.A.R. Conference, a conference geared towards assisting high school students in New York, New Jersey and Pennsylvania to incorporate Confidence, Leadership, Education and Responsibility into their daily lives.
Gerson has appeared on ABC's "Puerto Rican Panorama" and spoken on various radio stations. In addition, his positive keynote addresses have been well-received by college and high school students from institutions such as Texas Technical College, The Rio Grand Coalition, Temple University, Rutgers University, Princeton University, DePaul University, East Side High School, and also the United States Hispanic Leadership Institute, which asked him to speak at their Northeast and Midwest Conferences.
Gerson completed his B.A. at Rider University in Lawrenceville, New Jersey where he majored in Public Relations, Multi-Cultural Studies, Spanish Literature, and Speech. He also has the honor of being selected as one of the few AmeriCorps Promise Fellows, an esteemed national service position, for the New Jersey Department of Education.
Contact:    www.gersonmartinez.com