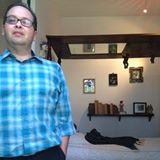 Manuel A. López (Manny) is a Cuban American poet, writer, and cultural promoter. He came to the USA as a ten year old during the Mariel Boatlift with his parents and siblings. His poetry in Spanish and English has been published in various magazines, such as Arique, Anterior Review, Delirium Tremens, Baquiana, Contratiempo, Linden Lane, LaFanzine, La Peregrina and Ventana Abierta.
His first poetry book was published in 2011, titled "Yo, el arquero aquel" by Editorial Velámenes. In 2012, a short story digital book titled, "Room at the Top" was published by TheWrightDeal, and a new edition was published by Eriginal Books in June 2013. It was later presented at Miami Book Fair International in November 2013. In August 2013, "Los poetas nunca pecan demasiado" was published by Editorial Betania in Spain, and received the Gold Medal in the Spanish Literature Category from the Florida Book Awards in February 2014.
A book of short stories in Spanish titled, El barro se subleva was published in January 2014 with Ediciones Baquiana, and presented at the XXXV Feria Internacional del Libro del Palacio de Minería in Mexico City. His short stories in Spanish have also been published by Baquiana and Linden Lane Magazine. His poem, A Calling was chosen along with the work of other 40 poets by Broward County Poet in Residence Anastasia Clark for the Our Poetic Tribute to Amelia Earhart, and published in a leather-bound volume permanently displayed at the Amelia Earhart Museum in Kansas. He has also participated in Cristina Garcia's, Las Dos Brujas Writer's Workshop with California's Poet Laureate Juan Felipe Herrera.
He keeps a column on the digital literary magazine Sub Urbano, where he presents a poet monthly. He is currently at work in his first book of poetry in English.
He can be contacted via email at zumanny@aol.com and via his blog at http://projectzudotcom.wordpress.com/.