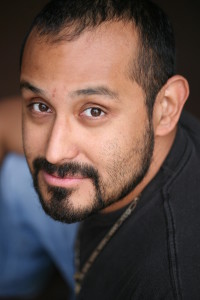 Bowie Valeriano Ibarra was born in Uvalde, Texas to a school principal and a book keeper.  Education was emphasized in his household.  Bowie's great grandmother, Praxedis Torres, recently had a school named after her in his hometown.
After graduating from Uvalde High School, 1993, Bowie earned a Associate in Art from Bee County College (now Coastal Bend College), a Bachelor of Fine Arts from Texas State University (formerly Southwest Texas State University), and a Master of Theater History from Texas State University.
Bowie currently writes what he describes as 'Tex-Mexploitation' stories centered around south Texas and the cultural traditions of the state.  His debut book 'Down the Road', a zombie horror story, was published with Permuted Press and Simon and Schuster and was part of the first wave of zombie literature.  The title was followed up with 'Down the Road:  On the Last Day' and 'Down the Road:  The Fall of Austin'.
Bowie has also written other titles, shunning the traditional model for a DIY approach, including 'Pit Fighters: Double Cross', 'Pit Fighters: Baptism by Fire', 'Codename: La Lechusa', 'Tejano Star and the Vengeance of Chaplain Skull', 'The Cruel Fate of Dr. Brewster McGill', 'Room 26 and the Army of Xulhutdul', 'Sword of the Angel', and 'Alamo Rising'.  He has also participated in numerous anthologies.
Network with Bowie at his official website, ZBFbooks.com (or ZombieBloodFights.com), to find links to Bowie's YouTube promo page, Twitter, Facebook, email, Google+, and GoodReads account.
Visit Bowie's official Facebook page at:  Bowie V. Ibarra