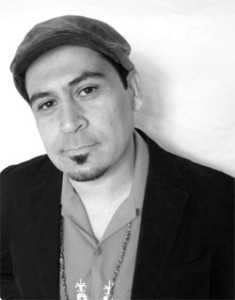 Tim Z. Hernandez is an award winning author and performance artist. His debut collection of poetry, Skin Tax (Heyday Books, 2004) received the 2006 American Book Award from the Before Columbus Foundation, the James Duval Phelan Award from the San Francisco Foundation, and the Zora Neal Hurston Award for writers of color dedicated to their communities. His debut novel, Breathing, In Dust (Texas Tech University Press 2010) was recently featured on NPR's All Things Considered, and went on to receive the 2010 Premio Aztlan Prize in Fiction from the National Hispanic Cultural Center in Albuquerque, New Mexico. Most recently, in 2011 the Poetry Society of America named him one of sixteen New American Poets.
As a performer he has collaborated with Grammy Award winning classical composer Eugene Freisen, Latin jazz recording artists the B-Side Players, and recently recorded a poem, The 99 on the newly released album Push by Latin hip-hop band 40 Watt Hype, which was recently aired on MTV tr3s. Since 2007 he has worked with Poets & Writers Inc. and the California Center for the Book at UCLA teaching poetry, fiction, and non-fiction workshops across the west coast. He is also active as a writer in the schools (California and Colorado) with focus on rural, under-served communities with high rates of dropouts, violence, and teen pregnancy. He is a frequent guest artist at Universities, cultural institutions, and literary centers across the United States.
Hernandez holds a B.A. in Writing & Literature from Naropa University and an M.F.A. from Bennington College in Vermont. He currently lives in Colorado and works for the Colorado Center for the Book, the state affiliate of the National Library of Congress.
Contact:   tzhernandez@yahoo.com