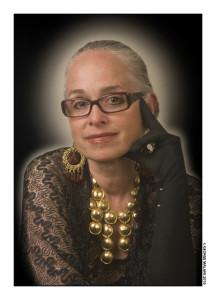 Magdalena Gómez is a Commentator with New England Public Radio and a columnist with Point of View newspaper in Massachusetts. She is a high-demand keynote speaker, known for her individualized, original and creative keynotes on a diversity of topics connected to leadership, culture and personal liberation. She is the co-founder of Teatro V!da, the first Latin@ theater in the history of Springfield, MA and an affiliated artist with Boston's Sleeping Weazel Theater.
From 2002 until his death in 2014, she was a regular collaborator with composer, author and baritone saxophonist, Fred Ho, as part of the Caliente! Tour, performing poetry and jazz.  Ms. Gómez is the founder of the Ferocious Women's Group, dedicated to creating venue for the creative voices of women and girls,  as they create performances of work relevant to their lives and communities.
In 2013, Ms. Gómez's archives were officially received into the Thomas J. Dodd Research Center at the University of Connecticut, Storrs.  She is the co-editor of the first multi-cultural, intergenerational and multi-genre book on Bullying in the global market, Bullying:  Replies, Rebuttals, Confessions and Catharsis co-edited with poet, María Luisa Arroyo; Skyhorse Publishing, NYC.
As a playwright, her work had been produced nationally, most recently a series of her poems and monologues were turned into a musical and produced off-Broadway at the Puerto Rican Traveling Theater in collaboration with Pregones Theater of Gómez's native Bronx.  Pregones theater named her a National Endowment for the Arts Master Artist.
Her poems and plays have been widely published, including:  Ollantay Theater Journal; The Massachusetts Review; Palabra; Literature and Society, Prentice Hall; Houghton-Mifflin upcoming Literacy Series; Latino Boom Anthology; upstreet; Callaloo; Luna; Art/Life; and the L.A. Times among others.  Performance venues include Lincoln Center; Vanderbilt University, and Smith College, among many others.
In 2014, a collection of her poetry selections from the 1970's through 2013, Shameless Woman will be published by Red Sugarcane Press, NYC.  From the back cover:
Magdalena Gómez offers us miraculous combinations: social protest with endearing humor; authentic human insights of  both U.S. and Puerto Rican society, and feminist inspiration with universal truths.  We are fortunate to have this great poet creating new works on our behalf. – Muriel Fox, co-founder of the National Organization for Women (N.O.W.)
Ms. Gómez may be reached through her website: www.latinapoet.com