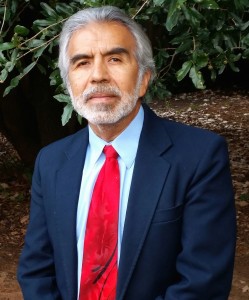 Richard J. Gonzales was born in Chicago, Illinois and attended Catholic Parochial schools through the 12th grade. His family moved to Texas in 1969, the birthplace of his father, Joseph Gonzales.
He graduated from the University of Texas at Arlington, majoring in English with a History minor. He founded the Association of Mexican American Students in 1970 at UTA.
The U.S. Army drafted Richard in 1972, serving two years. He received an honorable discharge.After his service, he enrolled in UTA graduate school of social work and graduated in 1977 with an M.S.S.W. He is a licensed master social worker.
Richard has been married since 1972 and has two children.
His interests include reading, writing fiction and non-fiction and running marathons. He has published two short stories, hundreds of op-ed pieces for the Fort Worth Star-Telegram and other print and internet news outlets.He has written grants for Tarrant County Juvenile Services.
He led a successful community effort to convince the Tarrant County Commissioners to name a paid county holiday for Cesar Chavez in 2001.
He is a member of the League of United Latin American Citizens, Tarrant County Cesar Chavez Committee, Fort Worth Writers, Oklahoma Writers Federation, and St. Joseph Catholic Church in Arlington, Texas.
He is bilingual (Spanish-English) and a wicked ping pong player.
You can contact author at: 682-201-7115