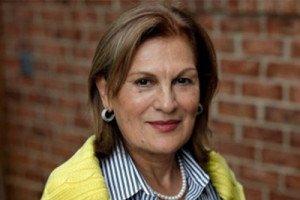 The Honorable Grace Flores-Hughes serves as Vice President F&H 2, Inc., a management consulting business. Mrs. Flores-Hughes' memoir, A Tale of Survival was published in 2011. She's a weekly contributor to VOXXI.com. She has had a lengthy public service career both in civil service and as a political appointee. Her last presidential appointment was in 2009 when President George W. Bush reappointed Mrs. Flores-Hughes as a member of the Federal Service Impasses Panel (FISP) of the Federal Labor Relations Authority to a five-year term. As a member of the FISP she was responsible for resolving impasses between federal agencies and unions representing employees arising from negotiations over conditions of employment through arbitration.
Mrs. Flores-Hughes was the first woman to serve as the Director/Assistant Attorney General of the Community Relations Service (CRS), Department of Justice from 1988-92. As Director, Mrs. Flores-Hughes was responsible for developing policies and establishing priorities with respect to the resolution of racial and ethnic conflict in communities throughout the country, and the resettlement of Cuban/Haitian refugees in the United States.
Before joining the Department of Justice, Mrs. Flores-Hughes was the first woman to serve as Associate Administrator for Minority Small Business and Capital Ownership Development. As Associate Administrator, Mrs. Flores-Hughes initiated a number of innovative policy changes associated with reforming the 8(a) program.
Mrs. Flores-Hughes has extensive knowledge of the federal government. She began her federal career as a GS-2 at Kelly AFB and subsequently transferred to the Department of Health, Education & Welfare where she assumed higher levels of management responsibility. She later worked in the Department of Health & Human Services as Acting Director of the Office of Hispanic Americans and was responsible for the development and implementation of social policy and programs regarding Hispanic Americans and where she helped coin the term "Hispanic" for the federal government.
Mrs. Flores-Hughes is fluent in both English and Spanish and has written and presented a number of professional papers including magazine articles, Why the Term Hispanic?,  Hispanic Magazine, '96 and The Use and Abuse of Diversity, Hispanic Magazine, '94, and The Origin of the Term Hispanic, Harvard Journal of Hispanic Policy, 2006.
Mrs. Flores-Hughes was also a Visiting Professor in the Political Science Departments of the University of Nebraska-Omaha and Nebraska Wesleyan University.
She received the 1990 Outstanding Public Service Award presented by the American Society for Public Administration. She is included in Who's Who in America and Who's Who of Professional & Business Women. Mrs. Flores-Hughes was named in Hispanic Business Magazine's list of 100 Most Influential Hispanics in the U.S. Mrs. Flores-Hughes was appointed by Virginia Governors George Allen and Jim Gilmore to serve on the VA Board of Professional and Occupational Regulation & the Board of Agriculture and Consumer Services. She served on the 1st Board of Visitors, Defense Equal Opportunity Management Institute and served on the Diversity Advisory Committee for the Virginia National Guard. In 2002 she was awarded Hispanic of the Year, 11th Cong. District of Virginia. Mrs. Flores-Hughes is included in the Hispanic American Profiles, Ballantine Book and in Notable Hispanic American Women, Gale Research.
Mrs. Flores-Hughes is a member of numerous organizations including serving as Board Member of the Harvard Journal of Hispanic Policy, the Board of Hispanic Alliance for Prosperity Institute and the Board of the Hispanic Foundation for the Arts Board founded by actor Jimmy Smits.
Mrs. Flores-Hughes holds a Master of Arts Degree in Public Administration from Harvard University and a B.A. in Child Psychology from the University of the District of Columbia.
Mrs. Flores-Hughes is a native of Taft, Texas and a 1965 graduate of Taft High School. She is married to Lt. General Harley A. Hughes, USAF (Ret), and resides in Alexandria, Virginia.
Contact:  http://graceflores-hughes.com