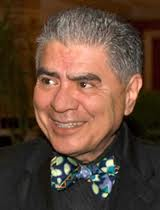 Jim Estrada is a Southern California native and is nationally renowned for his expertise in the field of communications, with nearly 40 years of advertising, journalism, marketing, and public relations experience. In 1992, he founded Estrada Communications Group (ECG), a family-owned and operated agency located in Austin, TX that provides clients with strategic counsel related to general and ethnic segments of the U.S. population. ECG has counseled many of the nation's most recognized corporations and public/nonprofit clients.
As a corporate executive, he directed national Hispanic Consumer Marketing (HCM) for Anheuser-Busch, Inc. (St. Louis, MO); developed corporate relations and philanthropic programs for the Anheuser-Busch Companies in the Southwest (Houston, TX); and supervised regional marketing and PR for McDonald's Corporation (San Diego, CA, Phoenix/Tucson, AZ, and Las Vegas, NV). He also directed PR and community outreach for the San Diego County Council of Governments (SANDAG, nee CPO), the San Diego County Housing Commission, and directed promotions and marketing for the construction of the San Diego Trolley—one of the most successful ridership/revenue generating, light-rail systems in the U.S.
The former television news journalist and award-winning documentary film producer remains an advocate of cultural relevance/competence in media and educational curriculum and is a nationally renowned speaker regarding the growing influence of Hispanics, Latinos, and mestizos in the USA. He currently serves on the board of directors of the American Association of Hispanics in Higher Education (AAHHE, co-chairs the advisory council of the VOCES Oral History Project at the University of Texas-Austin's Department of Journalism, and is a member of the Advisory Council of the University of Texas Libraries. He attended San Diego State University, Boston College, and Harvard University.
Contract Information: Jim Estrada