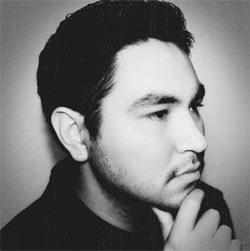 Elvis Dino Esquivel was born in Santa Ana, CA and spent his childhood in Michoacan, Mexico. After graduating from high School, Esquivel enlisted in the US Navy and was deployed to the Middle East in support of Operations Iraqi and Enduring Freedom.
After leaving the service, Esquivel returns to California and publishes his first poetry book, "Solo llore en otono" (2008), which includes various poems he wrote during his deployments. The following year he published his second poetry book, "Llantos del silencio". His poems have been published in numerous anthologies from Chile and Argentina.
After attending CSU Fullerton, where he majored in Spanish and Latin American Studies, Esquivel moved to Spain and is currently studying Peninsular Literature at the Universidad Complutense de Madrid.
Contact:   http://www.elvisdino.blogspot.com