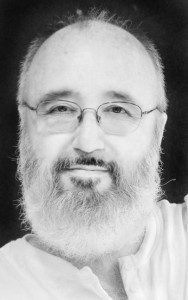 Rudy Castañeda López was born in the USA to Mexican-American parents. He immigrated to New Zealand in 1986 and worked in Tertiary and Secondary Art Education until 2014.
Because he suffered from Dyslexia he did not consider writing as a practical pursuit until he was forty years old.
In 2005 he wrote his first novel, The Song of Laughing Bird published by National Pacific Press. Catherine Wolfe, of Hawke's Bay Today (15 Oct2005) wrote, 'I'm impressed. I don't say that often… The Song of Laughing Bird kept me up late last night reading–I don't do that often either.' Mary Cee of the Waiarapa Times-Age (25 Sept 2005) called it 'a memorable first novel.' Although a critical success it sold a modest couple of hundred copies in New Zealand in the first year.
He focused on academic writing for the next couple of years. His Masters of Fine Arts dissertation, The Intimate Real: Empowering the Quiet Art, (2008) was published in Germany by Verlag Doktor Müller.
In 2013 he studied full-time at Whitireia Community Polytechnic and achieved an A+ pass on his Graduate Diploma in Creative Writing. His project for that year was the first draft of Open Your Eyes, Jackson Ryder.
The protagonist is tumbled from his comfortable life in 1963 New York City when his mother dies unexpectedly. He struggles to find a new relationship with his father even to the point of sacrificing his passion, art. They move to semi-rural California and Jackson's life is influenced by the socio-political events that precise the world to come; the emergence of a serious West Coast art scene, the assassination of President Kennedy, the emergence of the Beatles, the Vietnam War and the Civil Rights Movement. A dramatic turn of events, as life changing as the death of his mother, reveals and helps him to resolves his struggles, becoming himself and forging a path to his future.
Although he is seven years younger than Jackson, Rudy studied painting in California and experienced the resonances of that dramatic time first-hand.
In 2013 he was also given the Honour Award in the New Zealand Writing School Short Story Competition.
In 2014 he started writing full-time.
Phone: 04 235 8189
Cell: 027 341 6443
Email: janandrudy@gmail.com