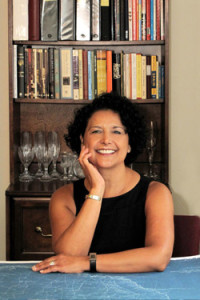 Edna Campos Gravenhorst was born and raised in Freer, Texas.  She lived and worked in the Midwest from 1996-2009, she currently resides in San Antonio, Texas.
Campos Gravenhorst is an author and historical researcher.  She has been published in national newspapers and magazines and has been interviewed in print media, radio and television around the country.  Her books include "Ay, Mija and Ay, Mijo!  Why do you want to be an engineer?", "Te de Canela/Cinnamon Tea", "Southwest Garden", "Benton Park West" and "Historical Home Research in the City of St. Louis".  She is working on her seventh book, "Negreta"; this work in progress won the Kate Chopin Silver Wings Writing Award for 2009.  Other writing awards include International Latin Book Awards in 2007 and 2008, and a Kid Power Award in 2007.  In 2009 she was awarded a Women on the Move Award by the University of Missouri-St. Louis, in 2008 she won a University of Missouri-St. Louis Women Trailblazer Award and in 2007 was named the Society of Hispanic Professional Engineers National Star Honorary Member.  She is a member of the National Association of Latino Arts and Culture Organization, the Society of Latino and Hispanic Writers of San Antonio, Las Comadres and the Society of Architectural Historians-St. Louis Chapter.  At Gemini Ink-the University Without Walls in San Antonio, she served as a Writer in Communities for Fall of 2009 and was a member of the Spring 2010 Faculty.
Edna Campos Gravenhorst speaks to groups and organizations around the country.  By sharing her experiences and the success stories of others, to audiences ranging from grade school students to mature adults, she inspires people to use their unique talents to live their best lives.
As an author and historical researcher Campos Gravenhorst's mission is to preserve the history of working-class Americans.
Contact:   www.ednacamposgravenhorst.com