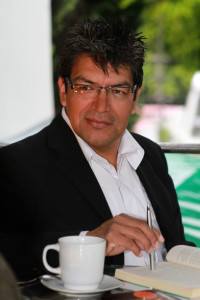 Eduardo Cholula was born in Puebla city, Mexico.  At present, he lives in Los Angeles, CA.  He was affected with polio and now is also a father of a son with physical limitation (Who is blind and he has a rare syndrome in the blood, which requires blood transfusion every two weeks to maintain him with life)
He is the proud father of 5 children, international key note speaker on topics of personal growth, and the author of books that have inspired thousands of people to a better quality of life:
"Comenzando Bajo Cero",
"Mi Razón de Vivir",
"Parábolas del Éxito",
"A Precious Gift" and
"El Pequeño Gran Guerrero".
He has participated as presenter, personal coach and actor in a movie and theater plays.
He was a president of HIT, (Hispanic Inspiring Talent) an association Latin writers in California where he is co-author of the book "Descubre tu Grandeza" Presently he writes scripts for movies, articles in news paper and local magazines, working as a commentator on an Internet radio station.
Due to his messages of inspiration, he won the "La Voz del Alma Award", also he has been special guest of different mass media, such as news paper, radio and television.
Eduardo Cholula, has captívate the public for his simplicity and internal strength. He is a model of success, since he sees problems as real opportunities of growth.
"Today is a Great Day, Never Surrender"
Contact Information: Eduardo Cholula