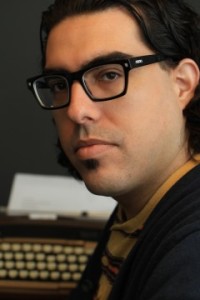 Alfred Cedeno believes human beings are made of three parts: saint, sinner, and robot. He explores all three in his fiction.
When he isn't writing fiction, he teaches high school literature and writing, watches Doctor Who with his wife, and plays the types of imaginary games that a father of toddler girls plays—that is to say he is often the king of a castle.
He primarily writes about the fictional poetic star Rey Pescador, and his equally famous friends, The Genius Brigade. He began blogging about these characters in 2006. His novel The Resurrection of Rey Pescador chronicles Rey Pescador's search for meaning and adventure in a metal world that has forgotten both.
Contact Information: Al Cedeno