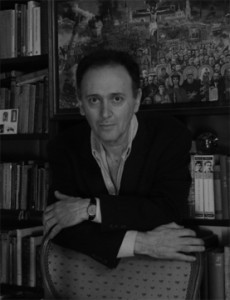 Edgar Brau was born in Argentina. He engaged in different occupations: he was an actor, a theater-director, a painter of icons, a photographer, until he completely devoted himself to writing literature. His first book, El Poema y otras historias ("The Poem and Other Stories"), published in 1992, was included in the UNESCO Project for International Financing of Translations. His second book, published in 1995, was a novel: El comediante ("The Player").
Between that year and 2001, he published two books of poems, three short story collections, a novel, and a book of diaries. By mid-2000, Edgar Brau`s complete work in prose was chosen by The National Endowment for the Arts to be translated into English by Donald A. Yates, the first American translator and editor of Jorge Luis Borges.
Since then, Edgar Brau has been invited by universities and American literary organizations to present his work and give courses as Visiting Professor.
Several of his works were published in different American magazines, such as The Literary Review, The Antioch Review, Two Lines, Nimrod, Ellery Queen Mystery Magazine, Words Without Borders, and others. In 2007, a collection of his works entitled Casablanca and Other Stories was published in the States by MSU Press.
Between 2008 and 2012 he wrote, among others works, Fausto ("Faustus"), a play in which the character is now a bright Argentine biologist at Princeton, who, while considering the possibility of destroying the formula he just discovered (which will enable man to live for a thousand years) is interrupted by the devil Mephistopheles, who has the mission of preventing that destruction; and the novel El oficio de Gulliver ("Gulliver`s Craft"), in which Swift`s character narrates an imaginary fifth voyage, in this case to an unknown, rather large island located near the estuary of the Rio de la Plata, an island that Gulliver calls Incognitahriah. Due to an inexplicable phenomenon, this island is occasionally reduced to the size of a turtle, albeit with no disruption of everyday life. The work is a satire of present day society, and a reflexion on its prevailing values. Edgar Brau lives in Buenos Aires.
Contact: www.edgarbrau.com.ar