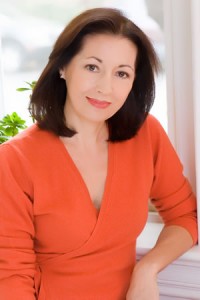 MARIE ARANA was born in Peru, moved to the United States at the age of 9, and
completed her BA in Russian Language and Literature at Northwestern University, her
MA in Linguistics and Sociolinguistics at Hong Kong University, and an MA equivalent
(Mandarin language) at Yale University in China. She began her career in book
publishing, where she was Vice President and Senior Editor at both Harcourt Brace and
Simon & Schuster publishers in New York. In 1993, she started work at The Washington
Post as Deputy Editor of the book review section, "Book World." She was promoted to
Editor in Chief of that section, a position she held for 10 years. In 2008, "The
Washingtonian" magazine called her one of the Most Powerful People in Washington. In
2009, she was Northwestern University's Alumna of the Year. Since 2010, she has been a
Writer at Large for The Washington Post and a Senior Consultant on Latin American
Affairs to the U.S. Librarian of Congress.
Arana is the author of a memoir about her bicultural childhood "American Chica: Two
Worlds, One Childhood," which was a finalist for the 2001 National Book Award as well
as the PEN/Memoir Award, and won the Books for a Better Life Award. She is the editor
of a collection of Washington Post essays about the writer's craft, "The Writing Life: How
Writers Think and Work" (2002), which is used as a textbook for writing courses in
universities across the country. Her novel "Cellophane," about the Peruvian Amazon, was
published in 2006 and selected as a finalist for the John Sargent Prize. Her most recent
novel, published in January 2009, is "Lima Nights." She has written the introductions for
many books on Latin America, Hispanicity and biculturalism. She is the scriptwriter for
the South American portion of "Girl Rising," a full-length feature film on education in
pockets of poverty, which will be released in March 2013. Her latest book, a biography of
the South American liberator Simón Bolívar, was published by Simon & Schuster in
April 2013. "Bolívar: American Liberator" was awarded the 2014 Los Angeles Times
Book Prize in biography.
Arana has served on the board of directors of the National Book Critics Circle and the
National Association of Hispanic Journalists. For many years, she has directed literary
events for the Americartes Festivals at the Kennedy Center. She has served as an
organizer for the Library of Congress's National Book Festival. She has been the
chairperson of juries for the Pulitzer Prize and the National Book Award as well as for the
National Book Critics Circle. Her commentary has been published in The Washington
Post, The New York Times, USA Today, The International Herald Tribune, The Week,
Civilization, Smithsonian magazine, The National Geographic, the Virginia Quarterly
Review, El Comercio, El País, and numerous other publications throughout the Americas.