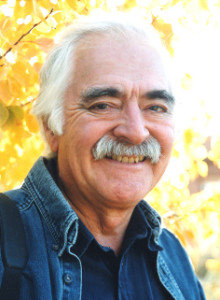 I grew up in Coney Island, New York, absorbing the unlimited expanse of the sea and the fantasies of the amusement parks. My summers were spent in a bathing suit
running with a pack of my friends through the streets to the beach where we would spend our days swimming, looking for coins in the sand, and sneaking into the amusement parks. My parents had come from Yucatan in Mexico. My father came to New York to study. My mother came later to visit her two brothers, Mario and Carlos, who were in New York working. She met my father and they fell in love. They married and then I arrived along with the depression. I grew up in an immigrant neighborhood where we were the only Spanish speaking family. There I acquired my English with a Brooklyn accent, my work skills, and street wisdom.
My father's hobby was photography and it was my first introduction to the making of images. My uncles worked in a silk-screen sign factory where I would watch them mix paints, cut stencils and print posters. My mother worked as a seamstress and would sew intricate lace on elegant lingerie. She would also cook fabulous Mexican meals for the friends and relatives that would visit us.
When I was twelve I began to work after school and during my vacations. My first job was for an auto mechanic, then a carpenter, and after at the Spook House. My friend and I would also collect junk and old newspapers in a two-wheel cart that we pushed along the streets. We would then sell the junk to a junk dealer which provided the money for movies and hot dogs.
In Mark Twain Junior High school I discovered the beauty of type in my printing and sign painting classes. I marveled to see how my teacher would paint letters with a chisel edged brush. That's where I learned to paint signs for the Coney Island amusement rides.
In Lincoln High School I had the good fortune to have Mr. Leon Friend as my Graphic Arts teacher. He had organized an Art Squad where we spent our after school hours designing, painting and drawing for posters, illustrations, and competitions. Through the alumni Mr. Friend made sure the students were exposed to the professional design world of New York and got jobs. While in high school I attended Saturday classes at the Brooklyn Museum Art School where I met Rufino Tamayo. I told him that some day I would go to Mexico. He invited me to visit him when I did. Immediately after graduation I boarded a Greyhound bus for the five day trip to Mexico City with five hundred dollars in my pocket. Maestro Tamayo arranged for me to study free at the Academia de San Carlos where I took courses in drawing, sculpture and fresco mural painting.
After a few months my money was running low. I left the school to travel through Mexico to reach Yucatan where my huge family greeted me for the first time. Not only did I meet my family but the land and people of the Maya.
After six months my money had ran out and I returned to New York to work and take up a nine month scholarship to the Art Students League. I was also accepted by The Cooper Union night school. When I finished studying at the League I began to work in art studios. Slowly I entered the world of publishing as an apprentice, then a designer and finally as an art director for Esquire, Seventeen Magazine and then for advertising agencies.
During these ten years I married, had three children and began to photograph. I noticed that the photographers I worked with as an art director were having more fun than I. They would go off on assignments and come back with wonderful pictures and stories. It was then that I decided to leave the security of a job to become a free-lance photographer. I've never looked back.
My photographs began to be published in magazines and advertising which eventually led me to making films. As a cameraman I shot documentaries around the world. I did several films for Sesame Street and other television clients.
During this time Barbara Brenner, a friend who wrote children's books, suggested we try doing a book together. She felt that photographs would be better illustrations for the book she had in mind called FACES. I found the experience very gratifying.
I began to spend more time doing books rather than films or commercial photography. It was a great feeling to walk into a library and see a kid reading a book I may have done years ago. I realized that books had a longer life than any other medium I had worked in.
My editor at the time, Ann Troy, suggested I try writing. I did and discovered another area I could explore and learn. Today I use words to convey what the pictures cannot say. Words can embellish what a photograph portrays.
Twenty years ago I visited Santa Fe to do a book at Las Golondrinas, a living history museum. Soon after we left the house and studio we had in Stony Point, New York, and moved to Santa Fe. What attracted me was the adobe studio and the attached one room house we found in Santa Fe. Later we built a house near the studio. Now we have enough room for the six children, four grandchildren, and three great grandchildren, to stay when they come to visit.
To create a book I travel and meet people who open their lives to me. I photograph, listen, and often live with them. Then I return to my studio where I put the book together, words, pictures and design. For me, books are the way I can share my experiences, discoveries, and the people that have become a part of my life.
I try to do what my father did when he would take me by the hand and walk the docks of Brooklyn looking up at the huge black hulls of freighters that came from all over the world. It made me aware that there were places far away that some day I would go to and get to know the people there. It opened up the world to me. I try to do this with my books. I've just finished my 117th book.
Contact Information: George Ancona