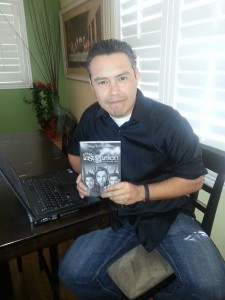 Jorge E. Ancheytta was born in Guatemala in 1977. His family brought him the U.S. when he was 12, with a 6th grade education, but without the ability to speak English.
His family settled in South Central L.A. where Jorge quickly picked up his new language. He attended Thomas Edison Jr. High school and John C. Fremont High school. He later attended El Camino community college to focus on his English.
He married Gabriela Gallardo at the age of 24 and moved to Downey, CA. They have two sons, Jorge Emmanuel and Allen Koby.
His love of writing emerged from his love of reading and from his older son.
When his son, Jorge Emmanuel, AKA Coco, was nine, together they developed a story. The story was meant to make bed time more exciting. The concept began when Jorge asked his son, "If you had super powers, what would you like to have?"
His son answered, "I don't want super powers… too much responsibility."
"Instead, I would like to have something that can give me super powers, but I can put it away whenever I don't want them," he continued.
With that idea in mind he began creating a story for his son and his two cousins, Heidi and Checo. The story he told his son that night was filled with fighting scenes and evil creatures.
That same night, he began to write the story to give it some type of continuation the following day. He went to bed at 4:00 am.  The story continued the following day and that same night he wrote some more. This ritual went on for about two weeks and soon enough he had written more than 50k words. He began sharing the written story with friends and family and he kept hearing the same thing.
"You should turn your story into a book."
The story took a life of its own. "The Last Garden" became a trilogy. The first part was published right before Christmas day of last year with two sequels being released in the near future.
The Last Garden takes place in a remote mountain hideaway where Heidi, her brother Checo and their cousin Coco live with some of the last humans on earth. Their world was destroyed long ago by the shadow, and only a few survived. But when Heidi's and Checo's father crosses over to the dark side, the trio is called upon to find and rescue him.
They learn that their father possesses the key to the mystery of the world's destruction and possibly answers to their future. Armed with three instruments endowed with special powers, Heidi, Checo and Coco bravely descend to the dark side, not knowing what they'll see and who they'll meet. Joined by Koby, a dark side inhabitant who is on their side, the teens seek both the man and the truth.
What they discover on their adventurous journey is far from what they expect, and they soon find themselves faced with the task of saving both their own lives and the lives of those they love.
A few local schools have picked up The Last Garden as a "must read".  There's even a Hollywood producer looking into it as a possibility for a major motion picture.
For more information and to order a copy of The Last Garden, please visit www.thelastgarden.com.