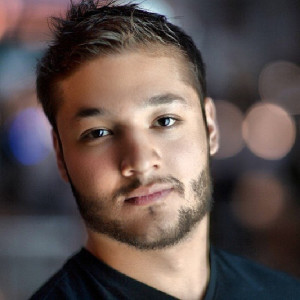 Ector Joel Acosta has outstanding achievements and continued commitment to the youth community in El Paso via his creative talents and relentless ambition. Recently, he has gained local media attention from the release of his novel, Rise of the Borderland Man, which was written with the intention of inspiring troubled youth that go through seemingly impossible situations that mirror those faced by the youth on the border. It specifically highlights the grim realities of gangs and bullying violence found, unfortunately, in every community around the world.  This book also spotlights the difficulties of the violence and neglect that vulnerable children and women in Mexico continually encounter.
On August 25th, 2013, he was the centerpiece of the article Writing on the border by Aaron Martinez featured in the El Paso Times. In the article he speaks out against bullying, violence and lack of positive role models; Stating that art is a powerful weapon against these obstacles. On November 8th 2014 he followed up with an article in Borderzine titled Borderland Man in which he details why he wrote the book. According to the article and conversation with Mr. Acosta, the aspiration to write the book was to provide a beacon of hope in a time of darkness for those that were battling through depression, bullying, violence and/or desperation.
Rise of the Borderland Man centers around bullying, a detrimental issue in society. On January 12th 2014 Ector Joel Acosta's novel was featured on the front cover of the El Paso Times. The article was Cyberbullying: El Paso girl's suicide puts spotlight on social media dangers. With the growth of his novel and desire to promote his beliefs, Ector took an active role as a resilient advocate against bullying, specifically cyberbullying since he too, like many others, mentions being a victim of it in high school.
Ector wasn't satisfied with just writing his novel. He was a model of persistence I grew to admire, doing whatever it took to get his book published and out to the public in hopes of informing El Paso's youth of the issues on the border. He raised $2,000, a grand portion of it on his own efforts, to have his books printed. He has had worked his way into setting up numerous book signing events, asking minimal donations and using the profits to pay the publishing company (Ravenport). Aside from this he has had some speaking engagements where he has been able to celebrate both the book release and the beginnings of hope and change in a society where people's awareness of their actions may be more harmonious and a spirit of helpful Brotherhood may reign in our cities, and around our planet. Since then he has spoken out against bullying at the Rise of Champions. He took the mic on the ring before the main event and made the crowd roar by dedicating book to Viviana Aguirre and telling the youth to follow their dreams. Professional boxer Antonio Escalante was the man who gave Ector Joel Acosta the mic and made this all possible. Since then Ector Joel Acosta has won a national award for his book in Shelf Unbound and has gained attention from comedian George Lopez who has now read Rise of the Borderland Man. Ector Joel Acosta also had a book signing at David Rodriguez's boxing event on July 18th. Many leaders in the community have embraced Ector's message of hope and have helped him along the way. Ector Joel Acosta is also a model. He enjoys modeling to set a good example to the youth and be a positive role model. He models vibrant clothes and healthy activities such as sports and writing. Despite his condition of Scoliosis Ector did extreme bodybuilding work outs to prepare for his modeling shoot. As you can see he has modeling experiences most recently at a photo shoot in San Francisco when he was partnered with Miss San Francisco, the great Agnes Liong, who is also honored with the title of Miss Germany International, and her personal message is to be a leader in the efforts of speaking out about bullying, and the two of them are writing their stories to be included in a new book out later this year. After the modeling shoot Ector came back to El Paso to run the Michelob Ultra El Paso Half Marathon to help Agnes Liong win Miss Germany International. The back of his shirt read Help Agnes Liong to Win Miss International and Fight Against Bullying and World Hunger. Stop Bullying You Can Be the Shining Light in Other's Lives and had her paypal account printed on his shirt for sponsors. This marathon was ran with no training. By staying fit and taking care of his body Ector motivates the youth to do this instead of turning to harmful substances that can hurt the body such as drugs and alcohol. It is certain that Ector has a bright future but a little bit more about his past. Ector Joel Acosta won the El Paso Times Spelling Bee as a child in 2004. He has been awarded two letters and numerous medals for his high school wrestling victories and has been an active member in the Salvation Army in which he has put in extensive hours of community service. Aside from this he has been a member of the Medical Professions Organization at UTEP, Honors Council and the Student Government Association in past years. In his sophomore year of college Ector was also awarded a scholarship to Arizona State University for his exemplary academic achievements at UTEP. Ector makes appearances throughout community to speak to youth and was even said to be the representative for the next generation in the El Paso Times.
Contact Info: Ector Joel Acosta