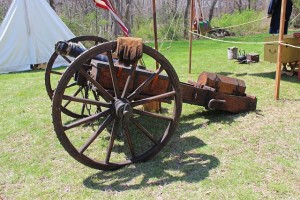 Contributions of Latinos at Yorktown Battle – American Revolutionary War
Almost everyone has heard of the Battle of Yorktown. In case you haven't, this was the last main battle of the American Revolutionary War; however, I'll bet not many are familiar with the contributions that the Spanish, Hispanic Americans, Mexicans, or the Cubans made to assist the colonial North American citizens fighting against the British during this time.
In 1776, Spain King Carlos III (along with the French King) helped finance the North American Rebels. This money is what brought the much needed supplies to the Continental Army under attack.
Also during this time many Spanish citizens lived in Havana, Cuba, due to this area being the hub for trade and for fleets going back and forth. The Spanish had a bee line to members of the U.S. Congress as well as to George Washington. With this connection, they were able to assist with the import and export trade between Cuba and the American colonies. This trade assisted in keeping the colonials afloat during that difficult time.
Three years later in 1779, Spain also declared war on the British. Havana had now become a place for some of the fierce battles occurring during that time. Simultaneously, the Spanish commander, MatÍas de Gálvez, also began fighting the British in the Nicaraguan jungles and it was all these battles that assisted to deflect the British troops from fighting the Continental Army in the colonies. This deflection turned out to be a great military tactic for the Spanish, the French, and the colonials in that they were able to win the war.
It was also around this time period that the French sent a fleet to help the colonists and those French Army citizens fighting the British on American soil. Both the French Army and the American colonists were hurting for supplies. Although the Spanish had wanted to help the war effort by providing silver pesos from the Mexican mines (that they had taken control of), the arrival of these monies had not quite made it as yet.
In 1781, the Citizens of Havana came forward to provide monetary aide to the war effort and to help the rebels. A cry went out to all Havana citizens to contribute money. One woman and twenty-seven men sent silver and gold to help fund the Spanish Havana treasury that had been emptied due to ongoing fighting. The sum of 500,000 Spanish pesos (coins) were then loaded onto a French ship and sent to the colonials. If this money had not arrived, there may have been a totally different outcome in the Yorktown battle.