Celebrating Hispanic Heritage Month!
Garbriel Garcia Marquez was a master writer by world standards and went on to become a Nobel Prize winner in 1982. He was born in Columbia and died in 2014 at the age of 87. He wrote ten novels during his lifetime.
In his Nobel Prize acceptance speech title "The Solitude of America, "he emphasized the dictatorships and ethnocide of war and military coups in Latin America. A direct quote from that speech was "We, the inventors of tales, who will believe anything, feel entitled to believe that it is not yet too late to engage in the creation of … a new and sweeping utopia of life, where no one will be able to decide for others how they die, where love will prove true and happiness be possible, and where the races condemned to one hundred years of solitude will have, at last and forever, a second opportunity on earth."
His books were filled with magical characters and events regarding politics, death, love, wars, dreams, and everything else in between. In an NPR interview in 1984, he indicated that his writing took shape during the formative years he spent with his grandparents – they raised him during those young years. According to him, his grandparents were direct opposites. His grandfather filled him with stories of war, while his grandmother gave him a view of a magical fantasy world. With this he formed his writing style.
He is of course known for "One Hundred Years of Solitude," which became a phenomenon and took stage with other Latino writers' works during the 1960s and 1970s such as Carlos Fuentes (Mexican writer) and Mario Vargas Llosa (Peruvian). Garcia Marquez and Vargas Llosa differed greatly regarding political ideals; however, they were both well known in respective circles. Other works that became famous are "The Autumn of the Patriarch," and "Love in the Time of Cholera." The lateral novel was made into a movie in 2007.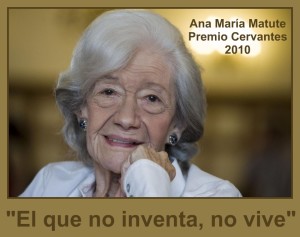 Ana María Matute Ausejo was born in 1925 and died in 2014. She is known for being the third woman to receive the Cervantes Prize in literature. At the age of four she developed a chronic kidney infection and almost died. During her recovery time, she spent time with her grandparents in Mansilla de la Sierra. Her books carry settings reminiscent of this town.
At the age of ten, the Spanish Civil War broke out (1936). This appeared to have a great impact in the author's writing. With this civil war, Francisco Franco was to take power, and his dictatorship continued for 36 years thereafter until he died in 1975. During Franco's reign much oppression took place and many people were murdered. One can't help note that this had to have shaped her writing as well as other people caught up in this repressive and stifling state of living. On occasion some of this author's works were censored and she was also fined by the government for her writing. It was a miracle that she was able to survive this regime at all.
Her first publication occurred at the age of 17. Her writings detailed feelings of betrayal, separation, and the rites of passage of adolescents. With her writings she incorporated details of the supernatural, fantasy, and fairy tale elements.
During her tenure as a University professor, she traveled extensively and often spoke about how human beings continue to always be in constant change throughout their lives, and how innocence is never truly lost. Among her many accolades, she won the Spanish Literary Award (Premio Nadal) in 1958 for "Los Mercaderes."