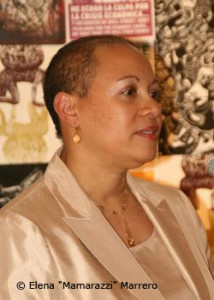 Born and raised in New York City's Spanish Harlem, I have worked extensively in Latino Theatre.  I have performed in various theatre productions; and videos that dealt with racial discrimination, women's rights in theatre and film.   My work as an artist and teacher is focused on community art related projects and the empowerment of women through positive affirmation of self-esteem and education.
I wrote and perform a one-woman show Lagrimas de Mis Madres; a biography of the women in my family. I also wrote and perform a performance piece based on the life of Sor Juana Ines de la Cruz, Mexico's first feminist poet and playwright called I Will Not Be Silenced.
I have read my poetry/ prose at:  The Writing Center at Marymount Manhattan College, Fordham University, Duke University, Clarion University, Vassar College, Middlebury College, and The Nuyorican Poet's Café. I have been published in the Marymount Review, the literary magazine of Marymount Manhattan College. I studied at Iowa University Summer Writer's Workshop and, hold a BA in English Literature from Marymount Manhattan College. In March of 2000, Lagrimas de Mis Madres was published by Marquette University and Western Michigan University in Caribe Revista de Cultura y Literatura.
In April 2010, I was awarded from the Eve Ensler Organization, the Vagina Warrior Award by R. Evolucion Latina's V-Day Espanol at the Nuyorican Poets Café…  A "Vagina Warrior" is  someone who has suffered or witnessed violence, grieved it, transformed it, and then does extraordinary work to make sure it doesn't happen to anyone else in their community. My book Transitions of a Nuyorican Cinderella was published in 2012.  In May 2013, Transitions of a Nuyorican Cinderella won 2nd place for Best Poetry in English at International Latino Book Awards.
Contact:  http://www.mariaaponte.com